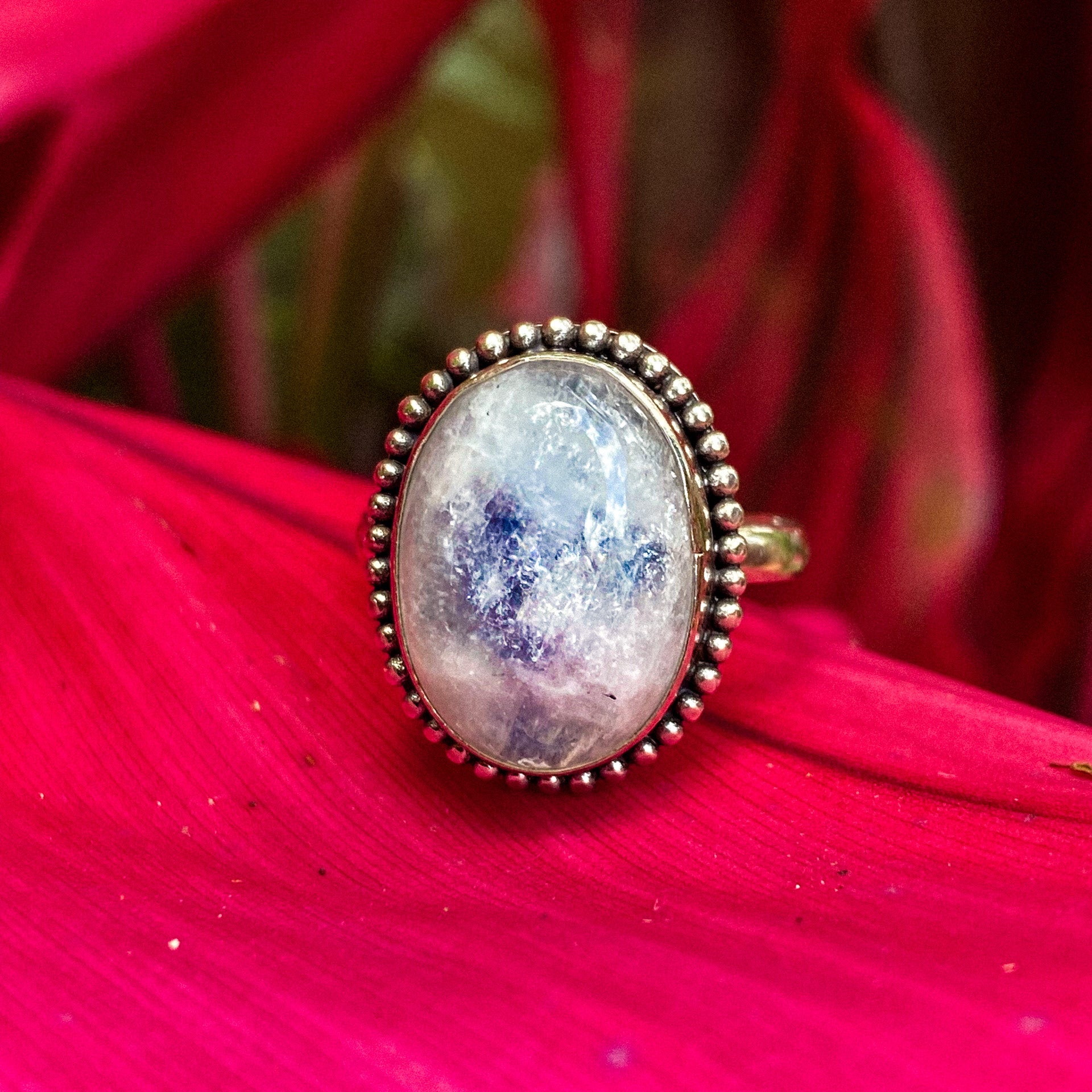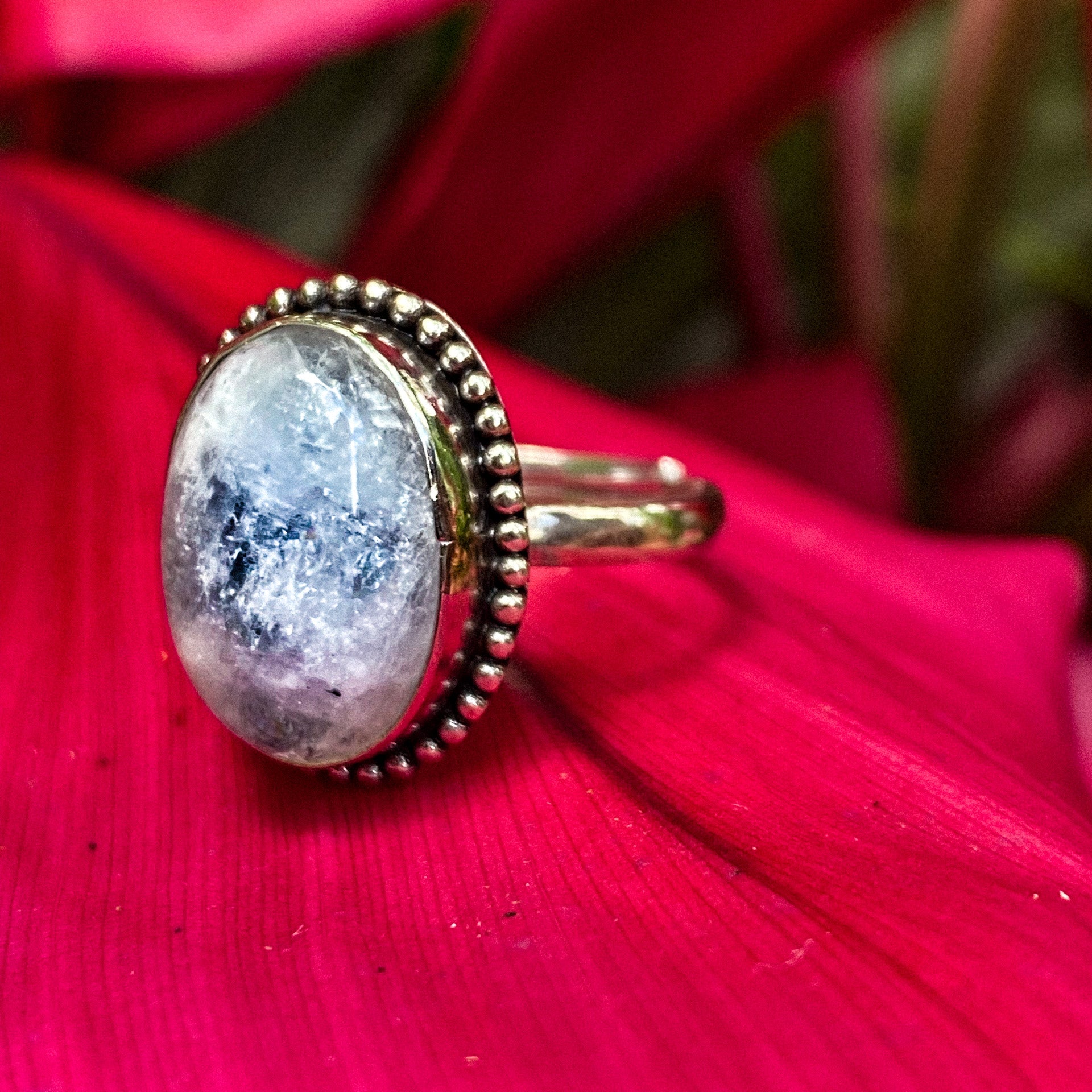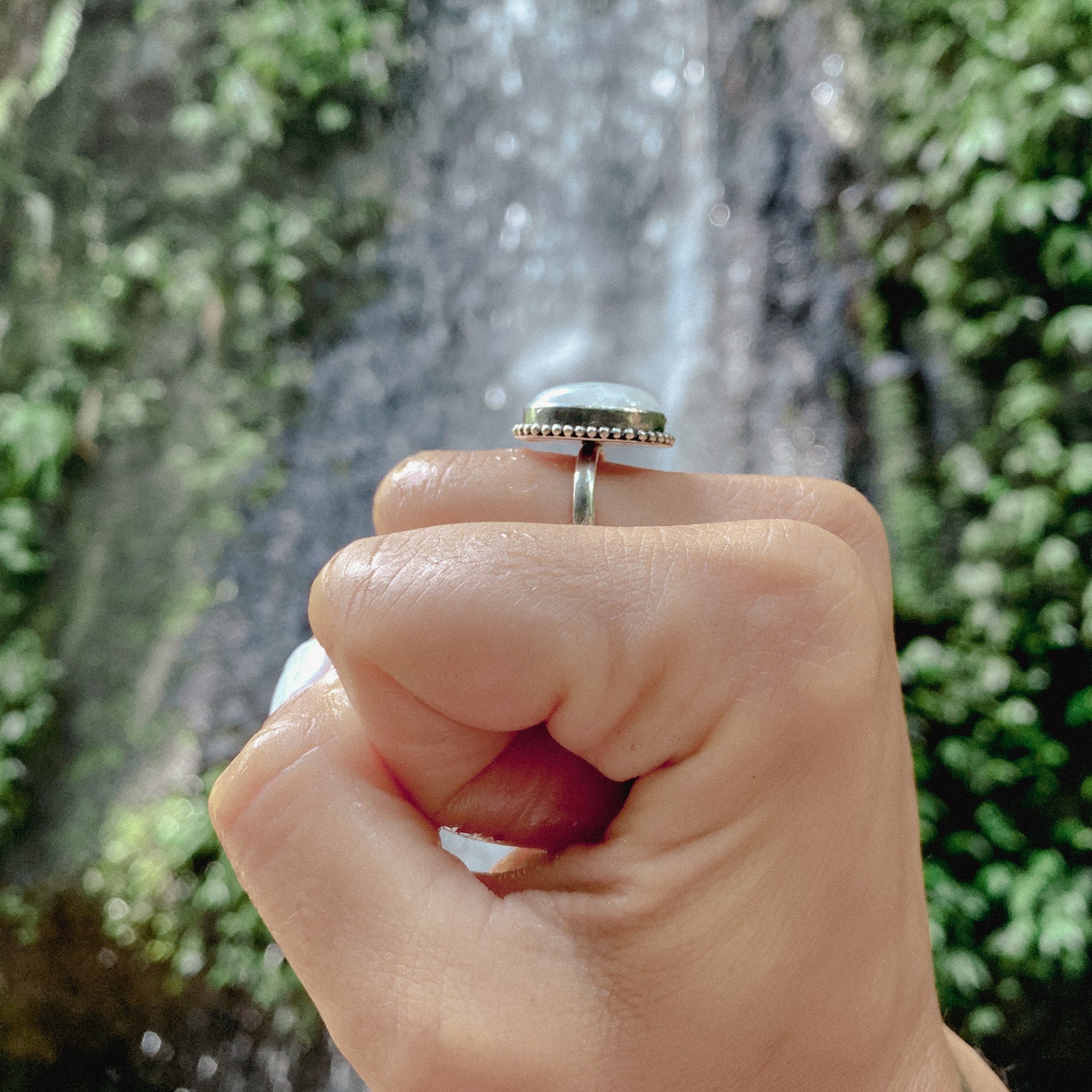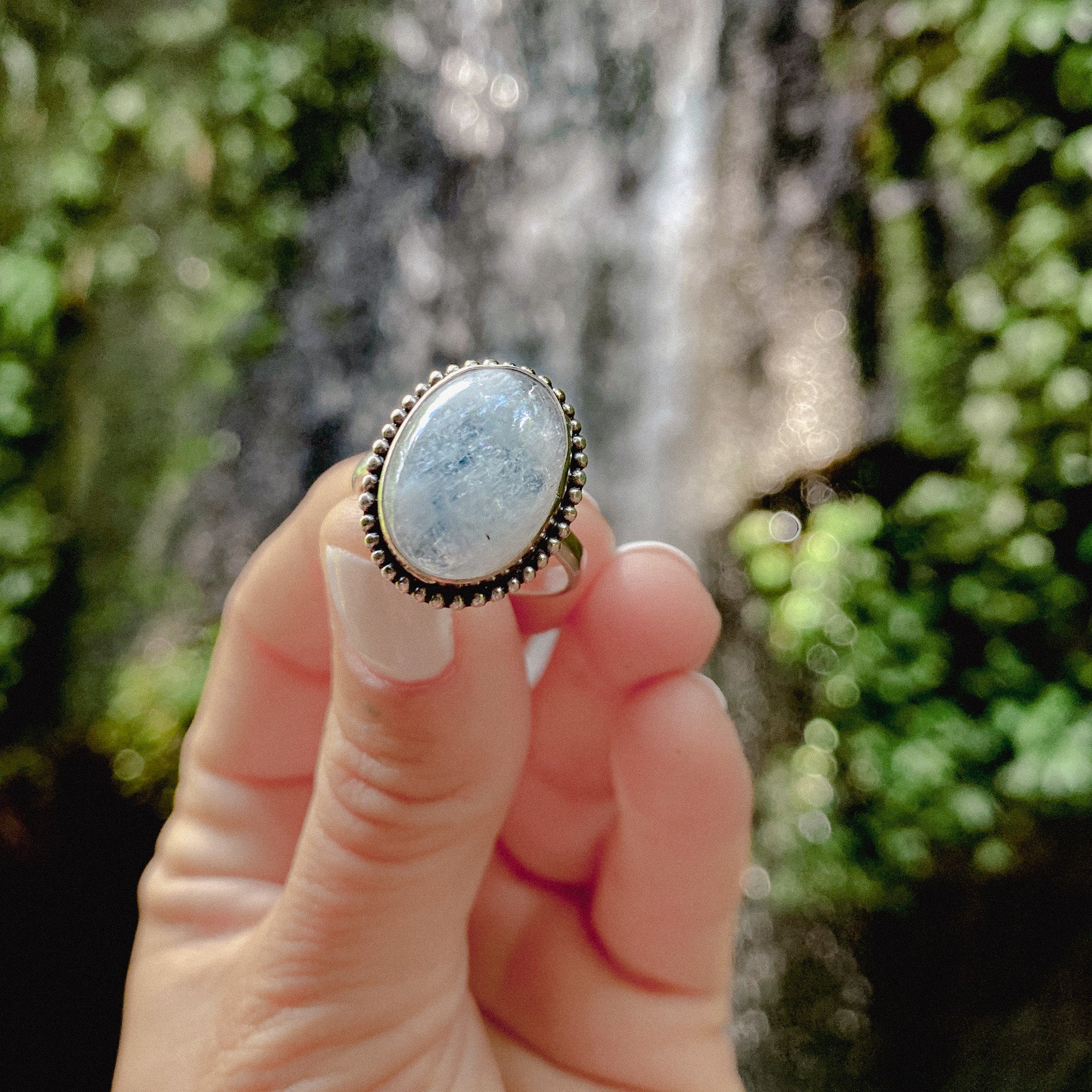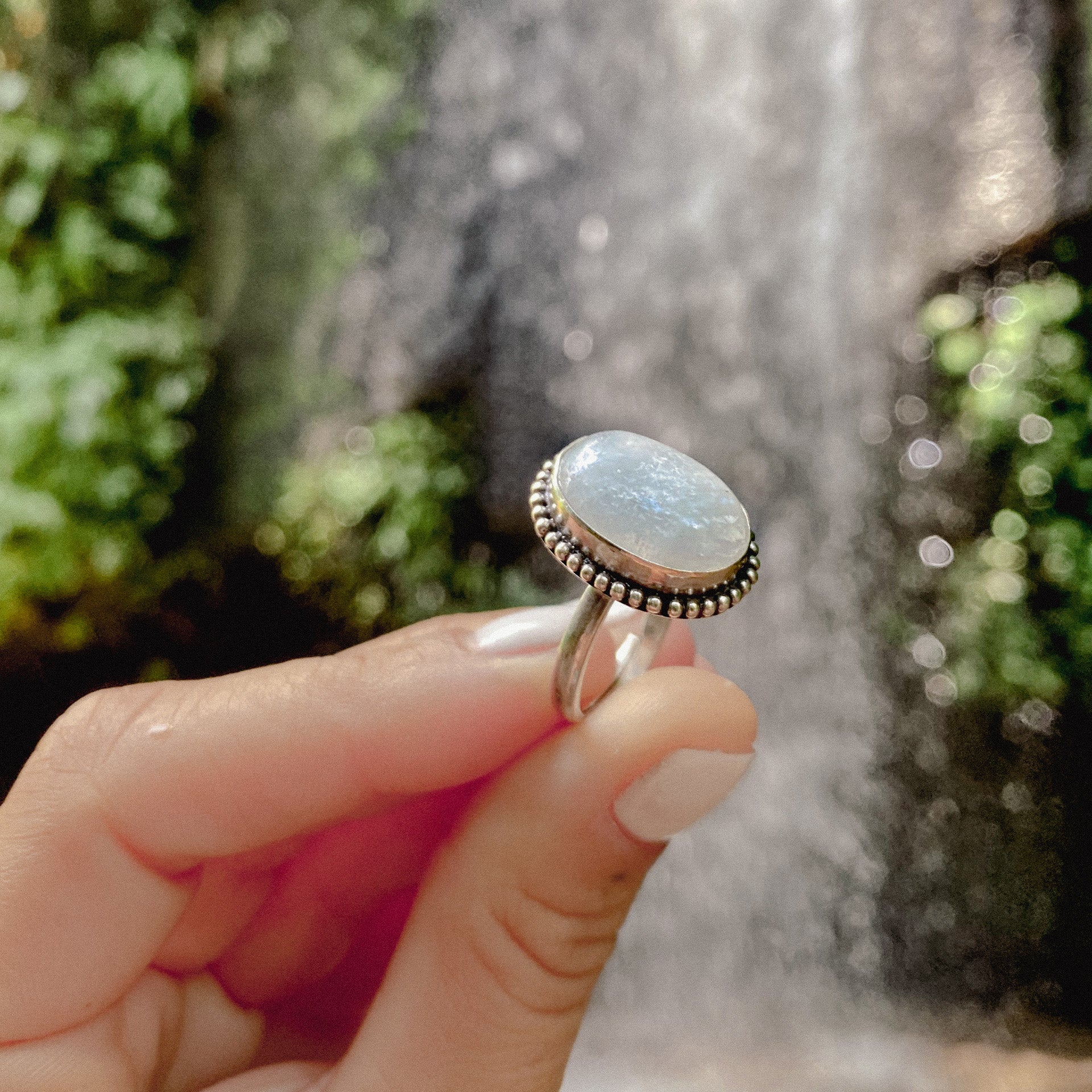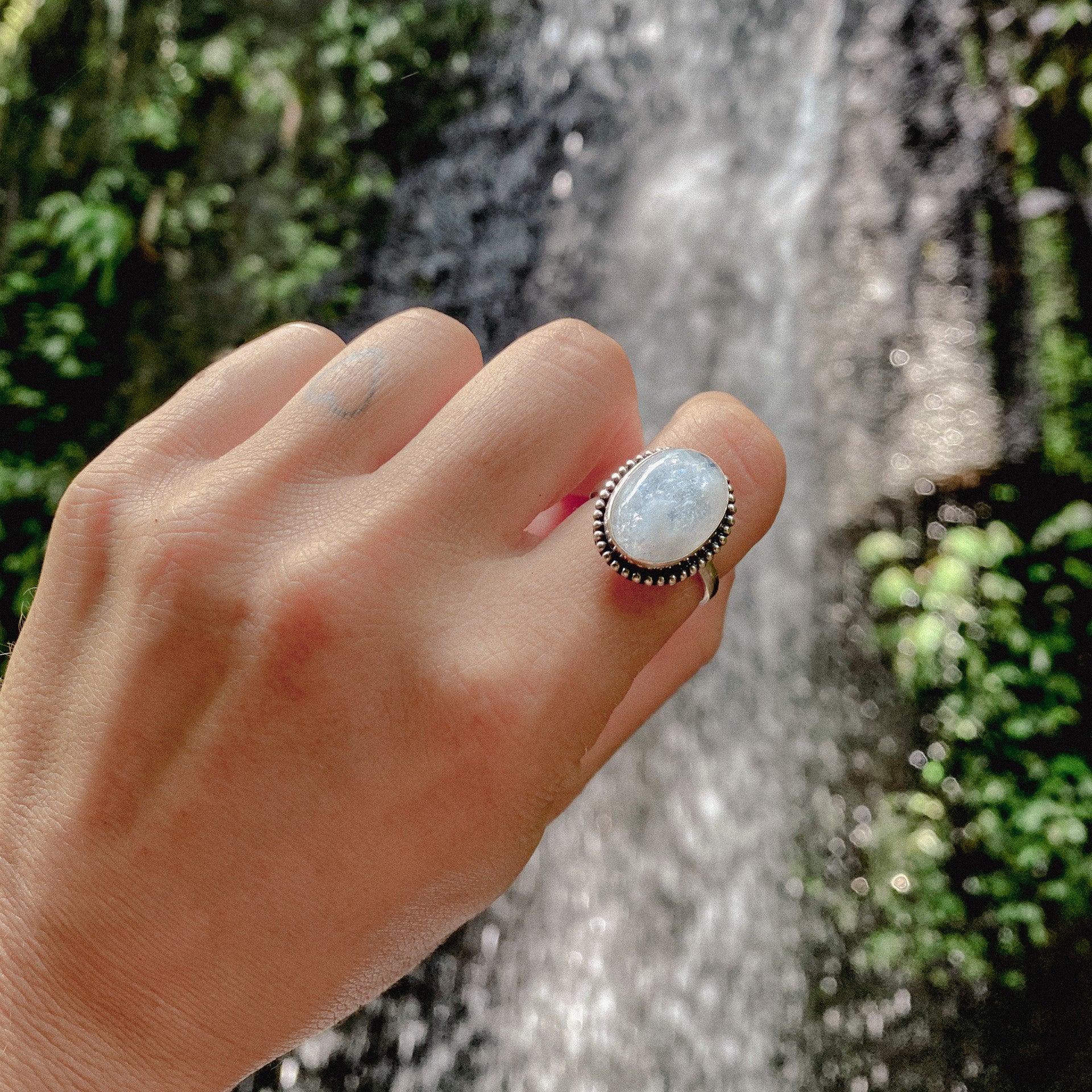 Anello in Argento 925 regolabile con Pietra di Luna.
Se da bambina sei rimasta incantata davanti ad una goccia di rugiada e ancora il ricordo ti dà dolcezza, allora puoi capire il fascino della pietra di Luna.
In tale gemma, perchè la qualità sia quella giusta, bisogna che il cristallo sia praticamente incolore, con un lieve bagliore blu lago, che appare e scompare, proprio come in una goccia di rugiada.
Le uniche pietre di Luna veramente belle sono lattiginose con un lampo blu che si vede solo a tratti e pietre con queste caratteristiche sono rarissime, specialmente se le si vuole del peso di qualche carato, come quella che ho scelto per questo splendido solitario.
Qui a Bali la rugiada ricopre tutte le piante la mattina presto, prima che il sole le faccia evaporare, ma sulle foglie che crescono vicino alle  pareti delle cascate, dove il sole combatte a fatica la fitta rete di rampicanti, è un incanto poterla ammirare da vicino tutte le ore del giorno. 
Ho scelto questo nome perchè anche questo anello è un incanto, proprio come la lucentezza della rugiada sulle foglie verdi di Bali.
| | |
| --- | --- |
| Materiale | Argento Sterling 925  |
| Misura | Regolabile |
| Pietra | Pietra di Luna 1,7x1,2 cm |
Collection
Limited Edition
Atlantica's Limited Edition jewelry is not for everyone. They are reserved for those who travel with their minds as well as their bodies, which is why the production quantity is limited compared to classic jewelry.

These jewels are available only a few times during the year, to maintain the Limited Edition concept and reward those who trust, all along, Atlantica.
ATLANTICA
Jewels from the World.
When the world touches my eyes, and the ocean touches my skin, my dream comes true.
I transform this dream into something for you that can transmit emotions, passion, trust, and change.
This is where my story begins.