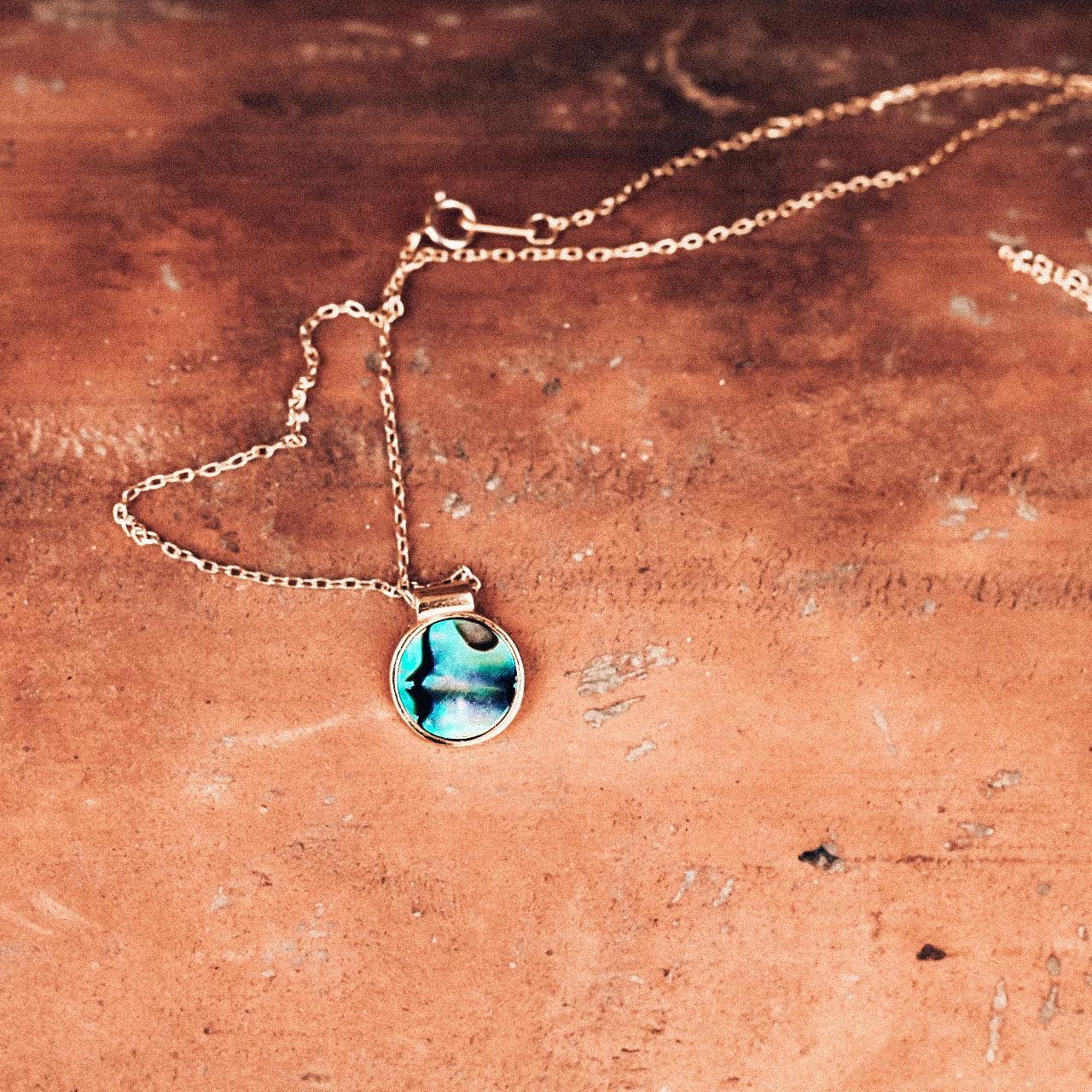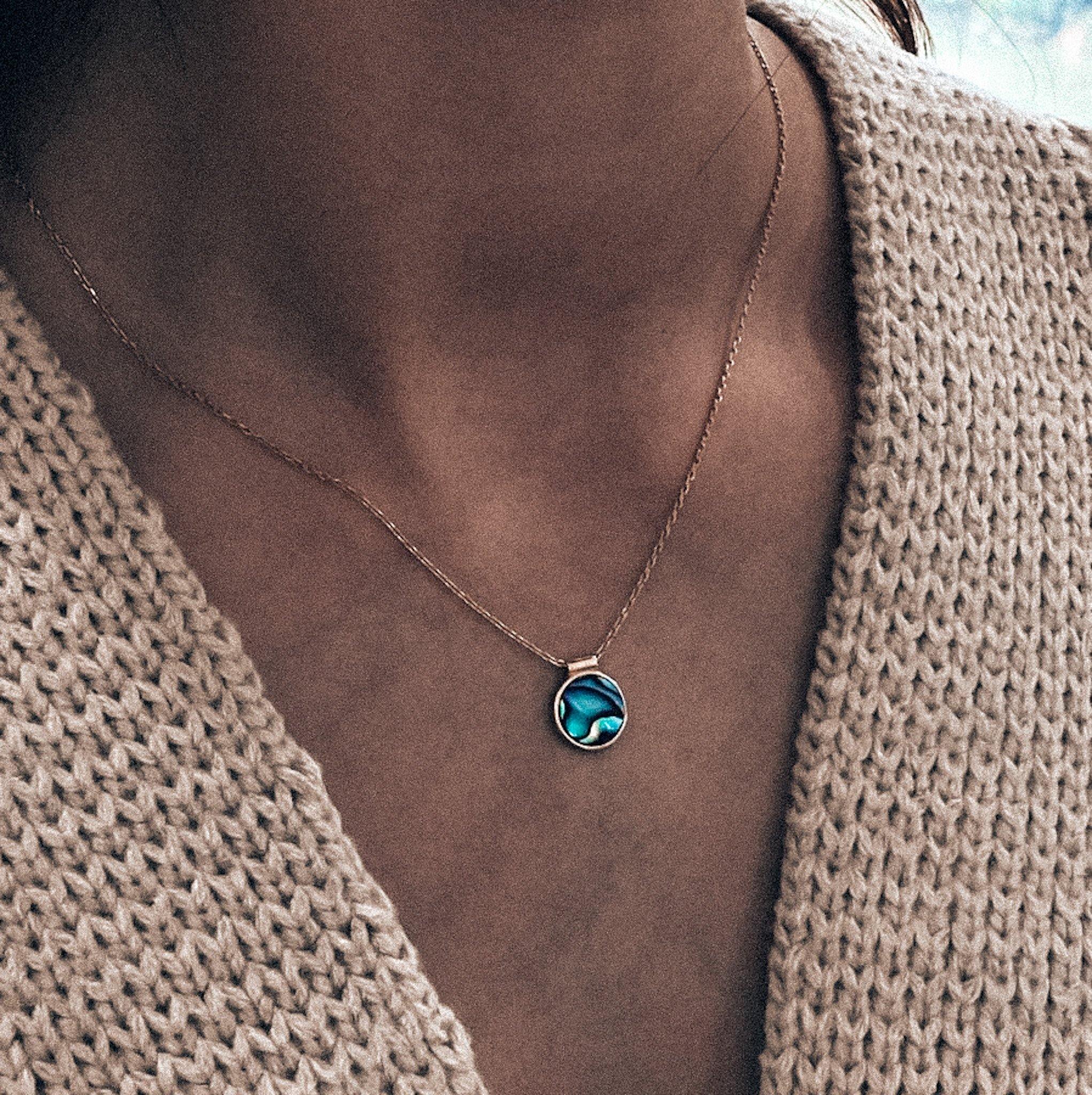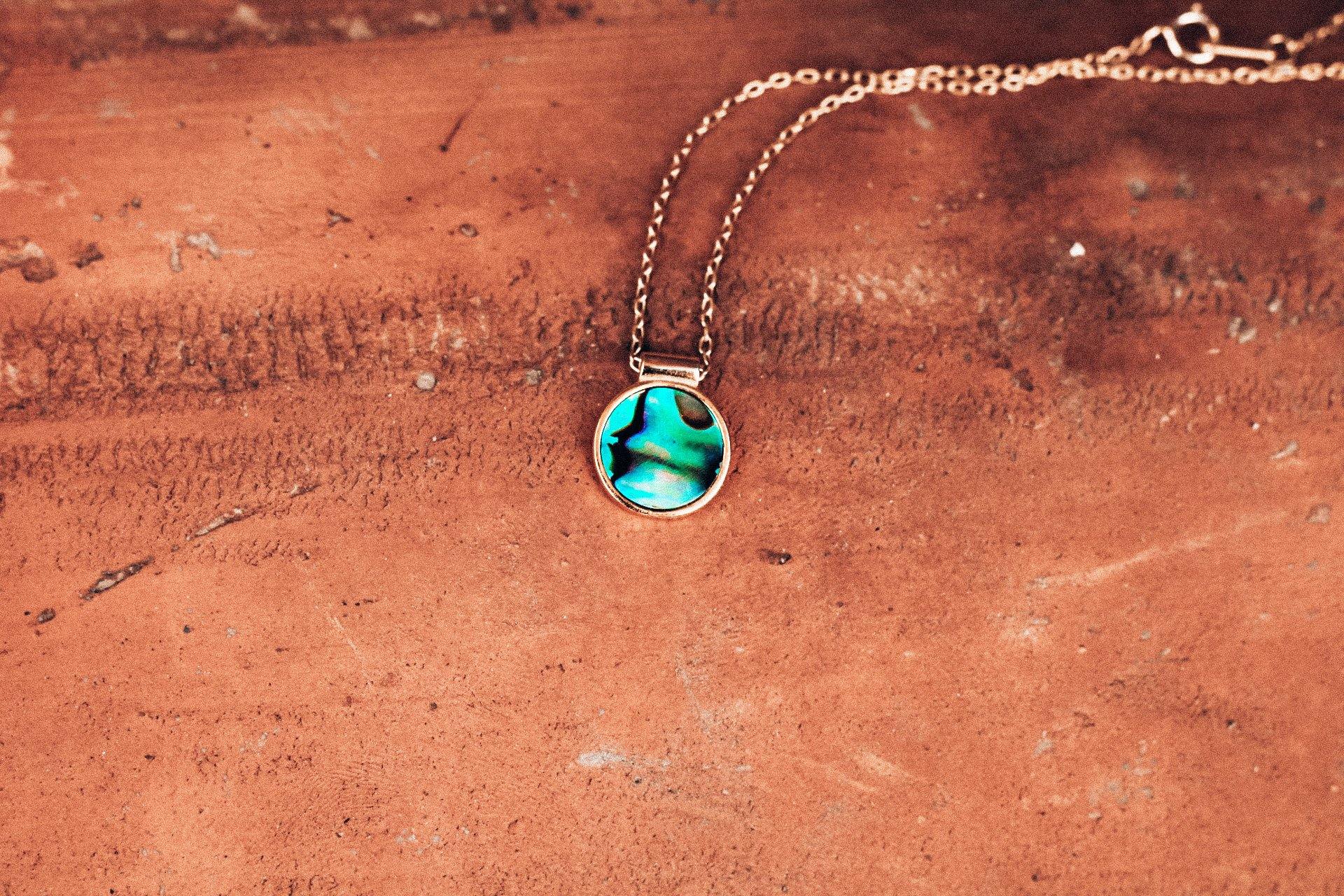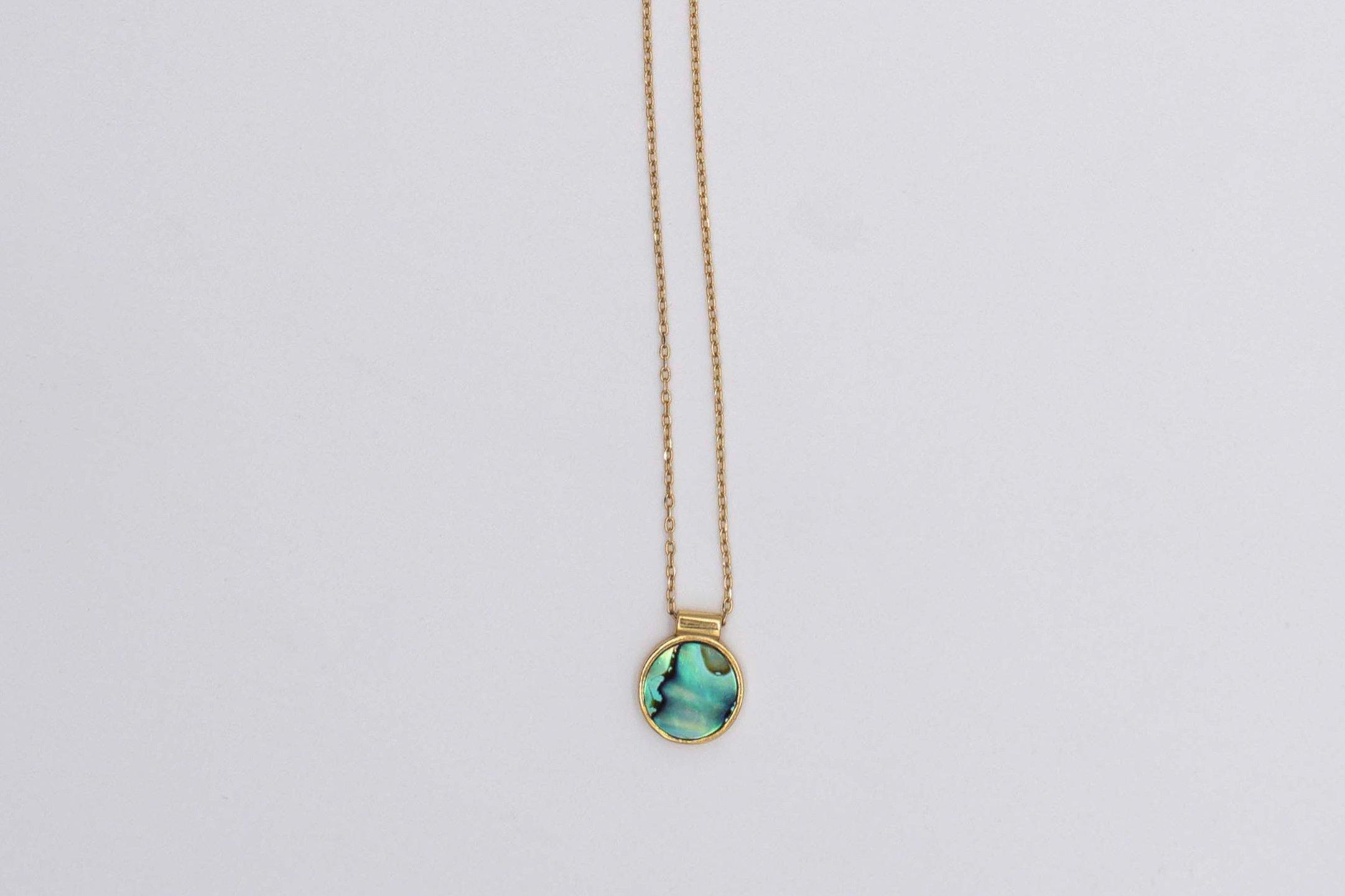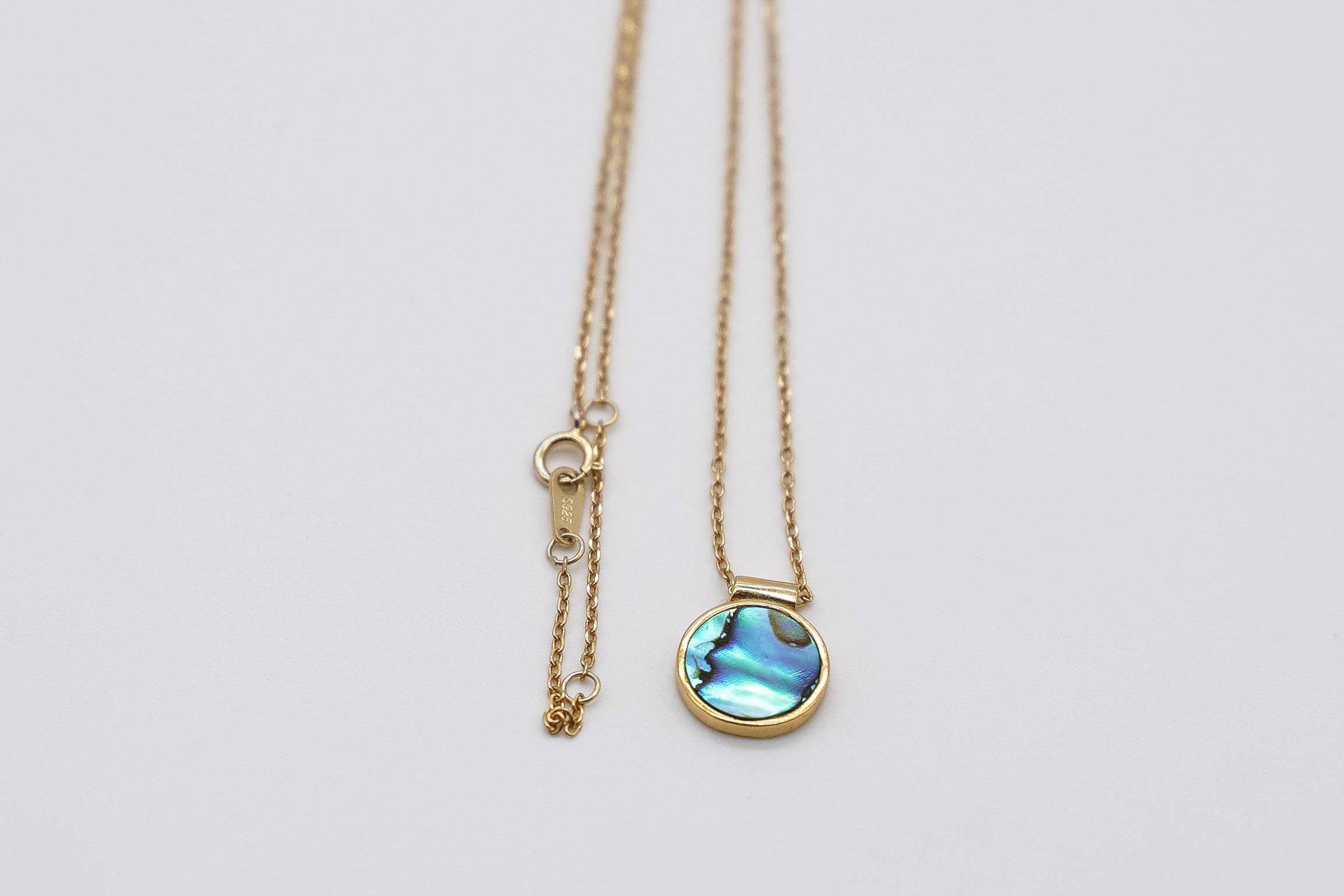 FEATURES
| | |
| --- | --- |
| Material | 925 gold-plated sterling silver |
| Length | 42cm |
| Pendant | Abalone mother of pearl 1cm set in Gold plated round cage |
Description
Dead Sea Necklace
Inizierei subito a spiegare che, per chi non lo sapesse, il Mar Morto nasce nella depressione piu' profonda della Terra a ben 420 metri sotto il livello del mare. Questo grande lago salato subisce una grande evaporazione non compensata dai fiumi che è una causa della sua elevata salinità. Ad oggi l'unico grande fiume che si immette nel Mar Morto è il fiume Uadi Mujib.

Ma arriviamo alla particolarità di questa collana, ovvero il suo ciondolo.

L'elevata salinità del mar morto fa si che l'acqua assuma sfumature cangianti dall'aspetto oleoso, quasi come se in acqua ci fosse benzina. Non scherzo, l'effetto è identico.

Questo perchè?

Beh non è altro che l'effetto provocato dal sale a contatto con l'acqua, che verso la superficie ovviamente, dove ha temperature più elevate, si scioglie e si mescola creando questo classico effetto "benzina", come lo chiamo io.

Così, anche se nel mar morto non è presente alcuna forma di vita marina, se non qualche piccola alga, ho deciso di rappresentarlo utilizzando una particolare tipologia di madreperla, l'Abalone, perchè ricrea perfettamente l'effetto ottico descritto sopra.
Details
Fatto a Mano
Etico
Sostenibile
Information
Spedizione in 24/48 ore lavorative
Pagamento sicuro con Carta di Credito/PayPal
ATLANTICA
Jewels from the World.
When the world touches my eyes, and the ocean touches my skin, my dream comes true.
I transform this dream into something for you that can transmit emotions, passion, trust, and change.
This is where my story begins.
Realizza i tuoi sogni.
Gioielli da tutto il mondo in puro Argento Sterling 925.
Per viaggiare con la mente, non solo con il corpo.
OGNI PEZZO HA UNA SUA IDENTITà, unica nel suo genere.
I miei gioielli non sono per tutti.

La produzione prevede infatti quantitativi ridotti per soddisfare la cura maniacale rivolta verso i dettagli.

Atlantica significa questo: poter dare una storia ad ogni creazione, rigorosamente fatta a mano, per diversificare ogni gioiello e renderlo in grado di raccontare una storia diversa in base a chi lo indossa.
Scopri tutte le Limited Edition
Rimani aggiornata
Non perdere le novità e la possibilità di acquistare i gioielli in anteprima a prezzo scontato! Registrati subito
Scopri tutti i prodotti!
Se il gioiello che hai visto non è disponibile, non temere!
Le creazioni Atlantica, infatti, vengono riassortite con cadenza mensile.
SCOPRI TUTTI I PRODOTTI