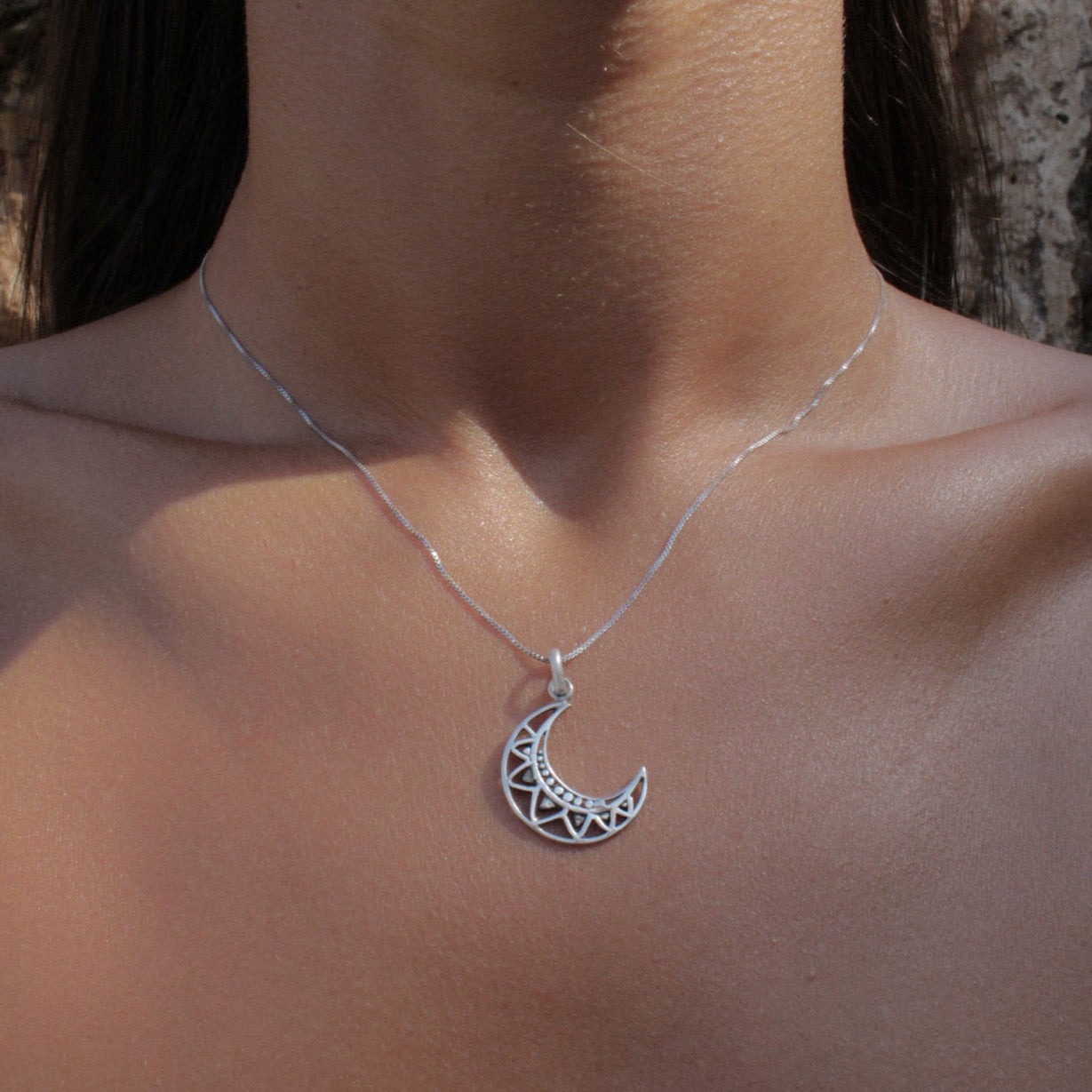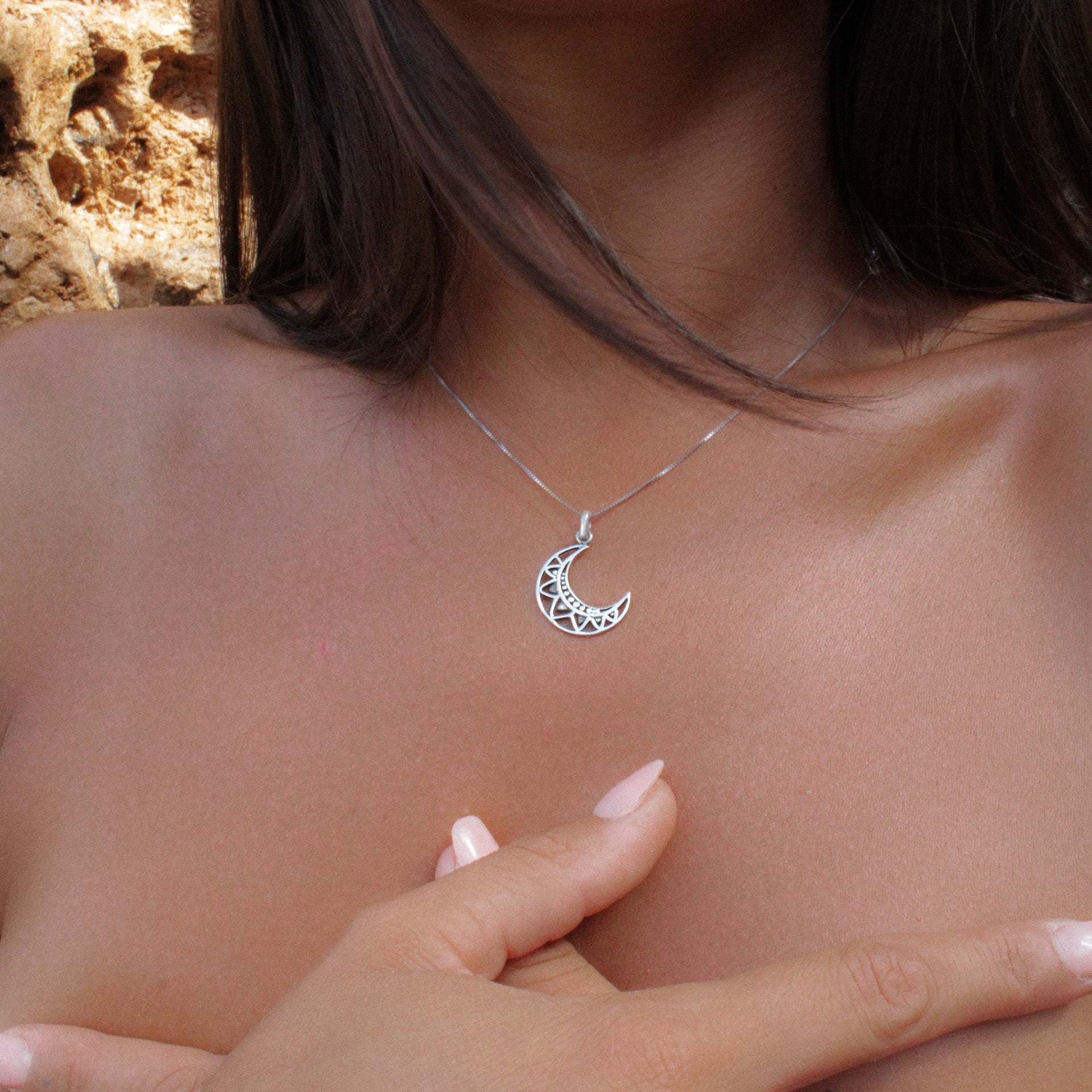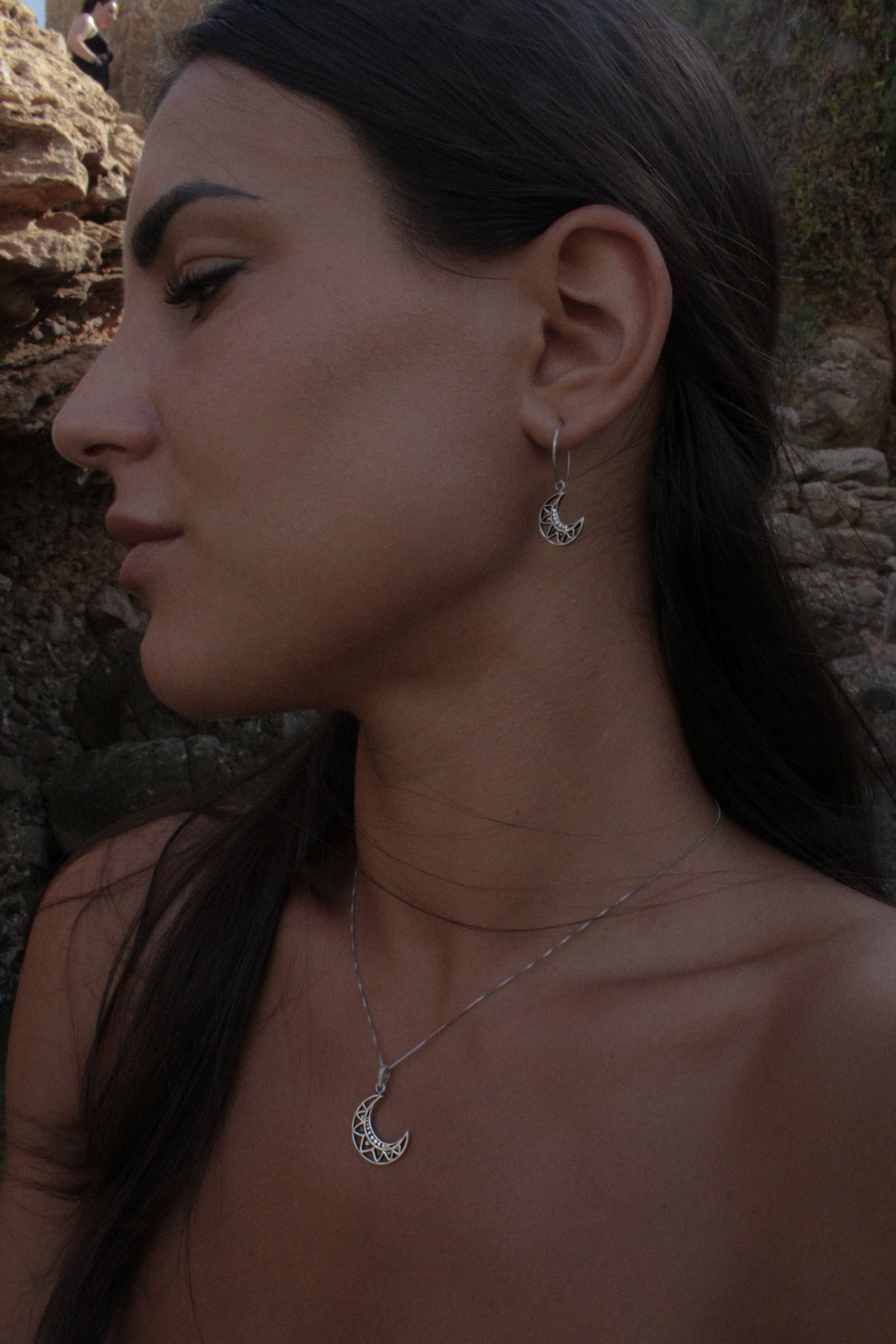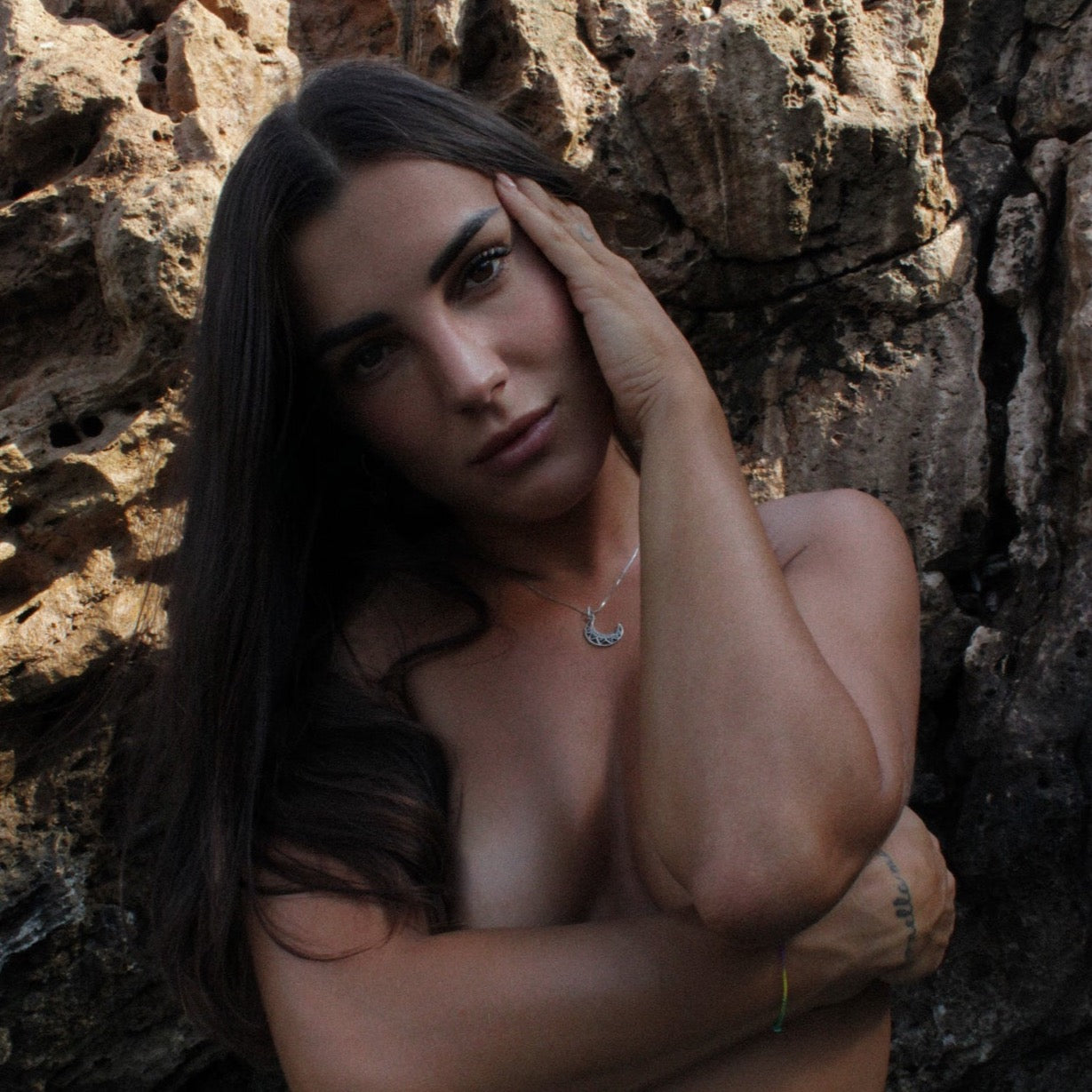 Collana 45 cm in Argento S925 con ciondolo mezza luna mandala fatta a mano.
La Luna, quante volte mi sono fermata a guardarla, quante.

Era diventata la mia dea, quella verso cui esprimevo desideri.

Non mi sento stupida a dirlo, perché tanto so che almeno una volta nella vita è capitato a tutti di sentirsi così giù di aver chiesto aiuto a qualcosa o qualcuno che non può davvero farlo, perché non esiste o non c'è più o è troppo lontano da noi.
Io avevo lei.
Sull'isola è quasi sempre nitida e l'energia che emana è potentissima, per chi ci crede ovviamente.
Mi sono sentita spesso sola, incompresa, intrappolata in un delirio da cui non vedevo uscita, così mi sono aggrappata alla luce che mi dava lei.
Fermarmi su uno scoglio o su una spiaggia a guardarla silente mi ha permesso di tornare a focalizzarmi sul tempo presente, a percepire il mio corpo il mio respiro, il mio cuore.
Ogni giorno che passava la sentivo sempre più vicina ed era come se prima o poi mi sarebbe entrata nel petto aiutandomi ad avere tutta la sua energia, per reagire e cambiare.
Voi direte che bel viaggio che ti sei fatta, si lo so.

Ma mi ha aiutata a trovare qualcosa che pensavo mi avrebbe sollevato, perché da sola mai avrei pensato di farcela.

Grazie Luna per avermi aiutata ad accarezzarmi il viso e asciugato le mie lacrime con la tua luce che ogni volta mi trasformava le smorfie in sorrisi.
Ti devo tanto anche se hai fatto poco, ma quel poco mi è bastato. 
Per questo ho deciso di dedicarti questa meravigliosa collana, come segno della mia gratitudine per la tua compagnia ogni notte in cui mi sono sentita sola.
CARATTERISTICHE COLLANA
| | |
| --- | --- |
| Materiale | Argento Sterling 925  |
| Misura | 45 cm |
| Luna | 2 cm |
Description
Collana Luna Mandala
Flower power!
Potere ai fiori!
Dicevano gli hippie.
In una frase così semplice io ci ho visto tutta Ibiza.
Ibiza non è solo vita notturna, sregolatezza e lusso sfrenato.
Ibiza è stata anche culla della comunità hippie, in particolare a LAS DALIAS.
Prima dell'arrivo dei figli dei fiori Las Dalias era un piccolissimo borgo al centro dell'isola ed ora è un colorato e vivace paese che non ha nessuna intenzione di dimenticare la cultura che gli ha dato un'identità.
E' proprio qui infatti che puoi trovare gente meravigliosa, libera e mercatini coloratissimi in stile hippie.
Ed è qui che ho trovato l'ispirazione per questa parure, composta da anello, collana ed orecchini.
Questi gioielli in argento 925 e pietra turchese sono in pieno stile hippie.
L'elemento della pietra naturale e il suo colore sono immancabili simboli di pace ed armonia.
La decorazione dei petali di fiore, che rimandano alla natura, al legame con essa, vitale per questa comunità.
Ultimo elemento, ma non meno importante, l'artigianalitá.
Volevo trasmettere in questa parure il valore della vera artigianalità che ho respirato tra questi mercatini.
Amo la cura e la lentezza del fare le cose a mano, perché ogni cosa ha i suoi tempi.
Amo le imperfezioni e l'unicità che solo l'artigianalità può regalare.
Come in natura.
Collection
Limited Edition
Atlantica's Limited Edition jewelry is not for everyone. They are reserved for those who travel with their minds as well as their bodies, which is why the production quantity is limited compared to classic jewelry.

These jewels are available only a few times during the year, to maintain the Limited Edition concept and reward those who trust, all along, Atlantica.
ATLANTICA
Jewels from the World.
When the world touches my eyes, and the ocean touches my skin, my dream comes true.
I transform this dream into something for you that can transmit emotions, passion, trust, and change.
This is where my story begins.