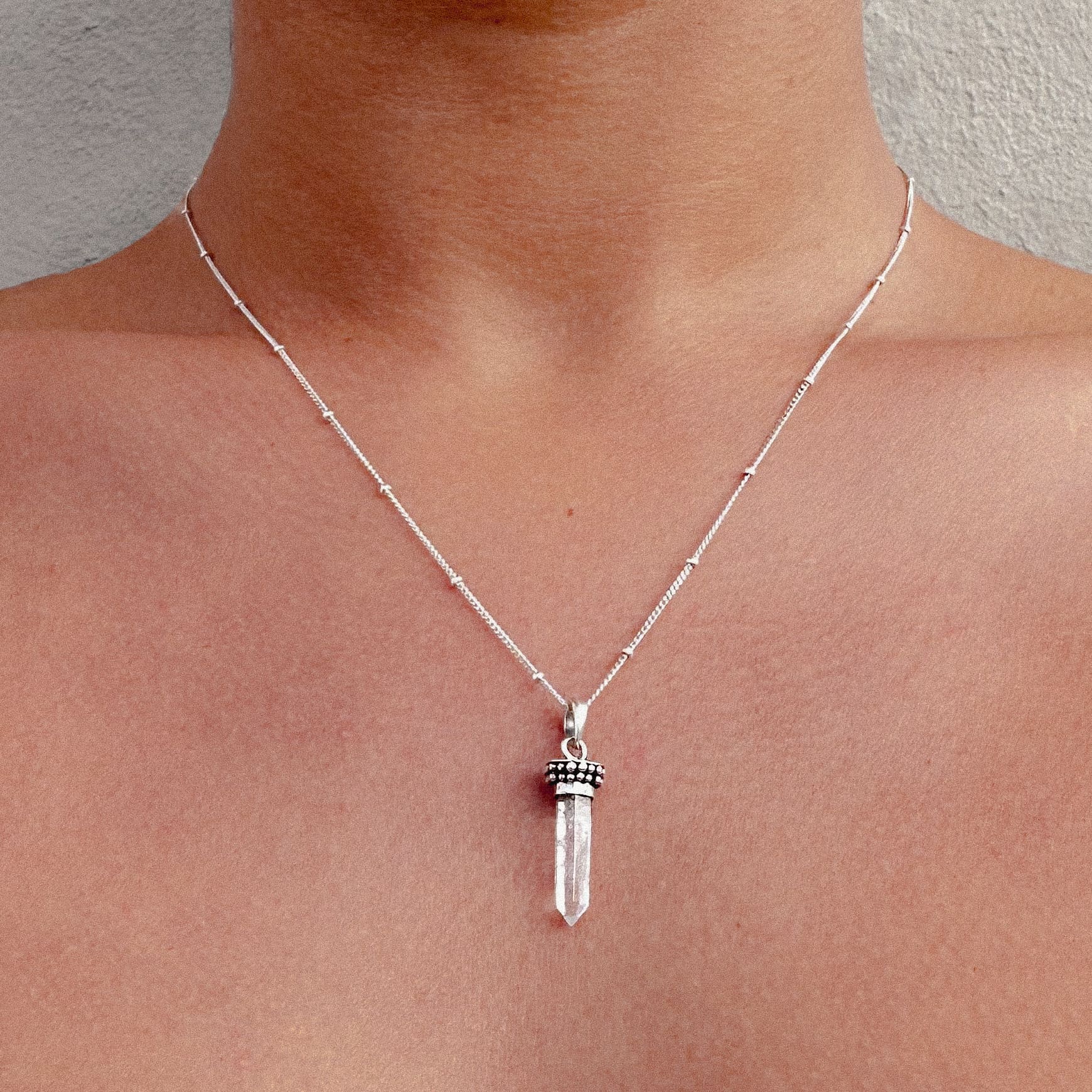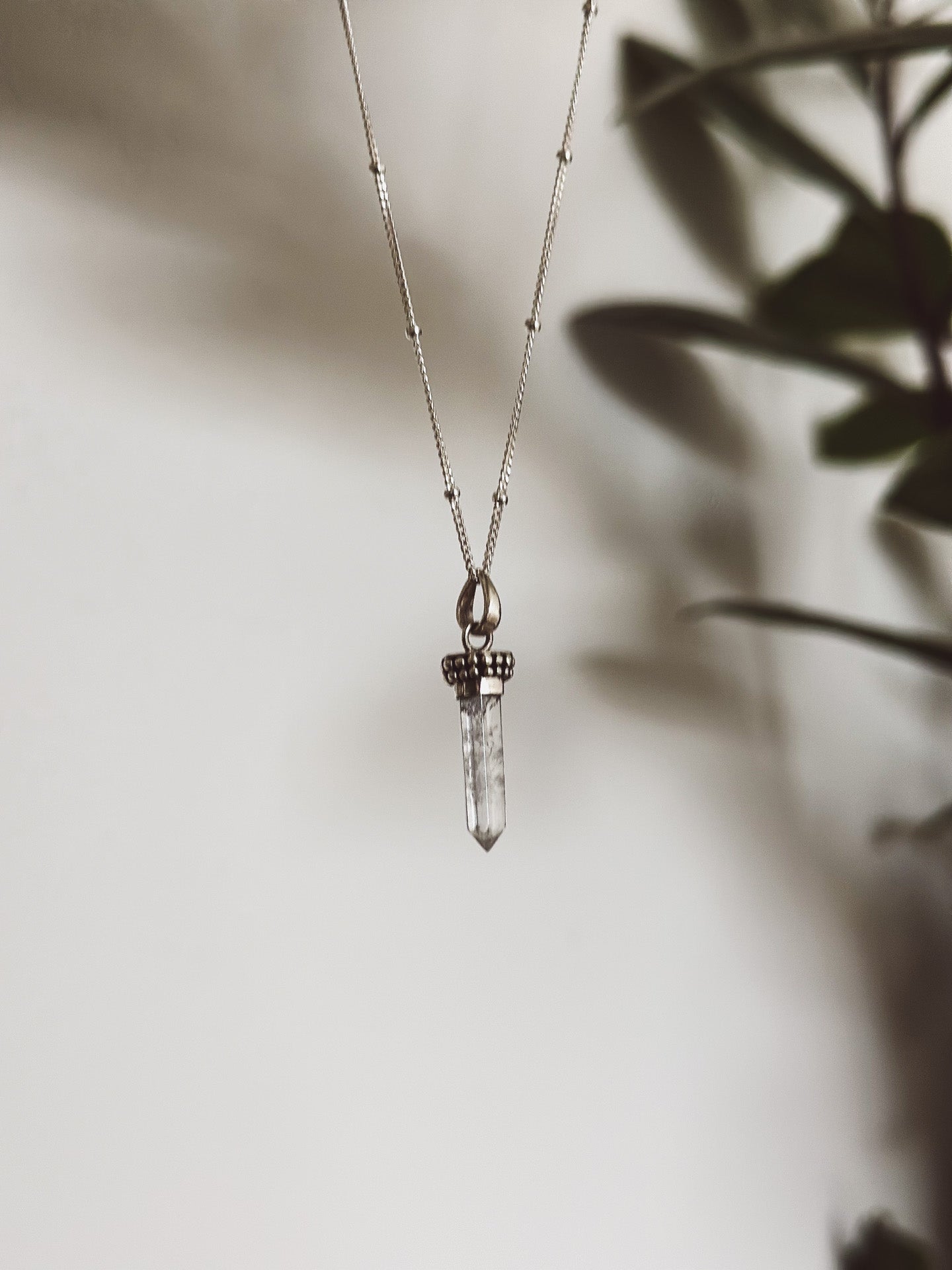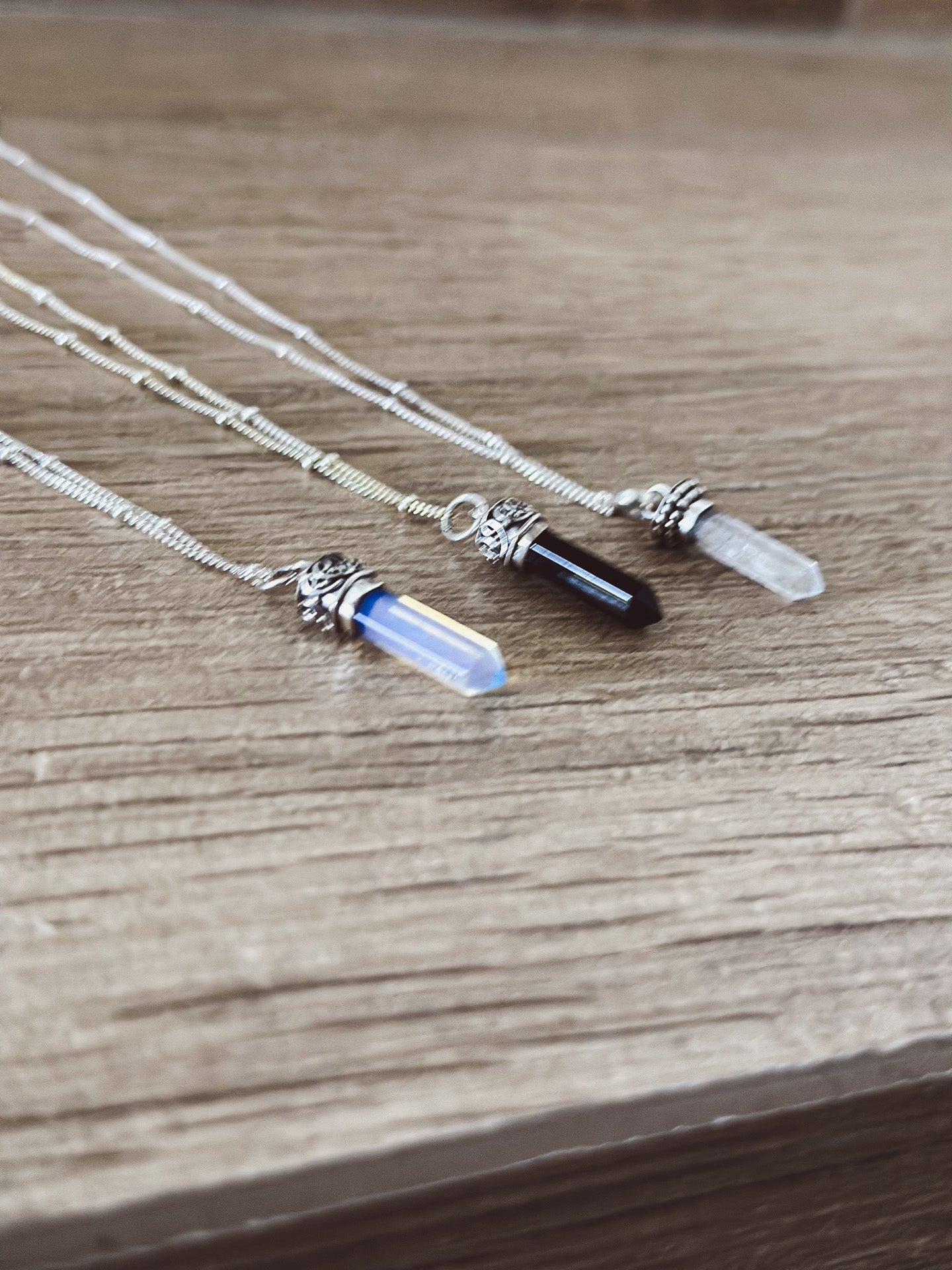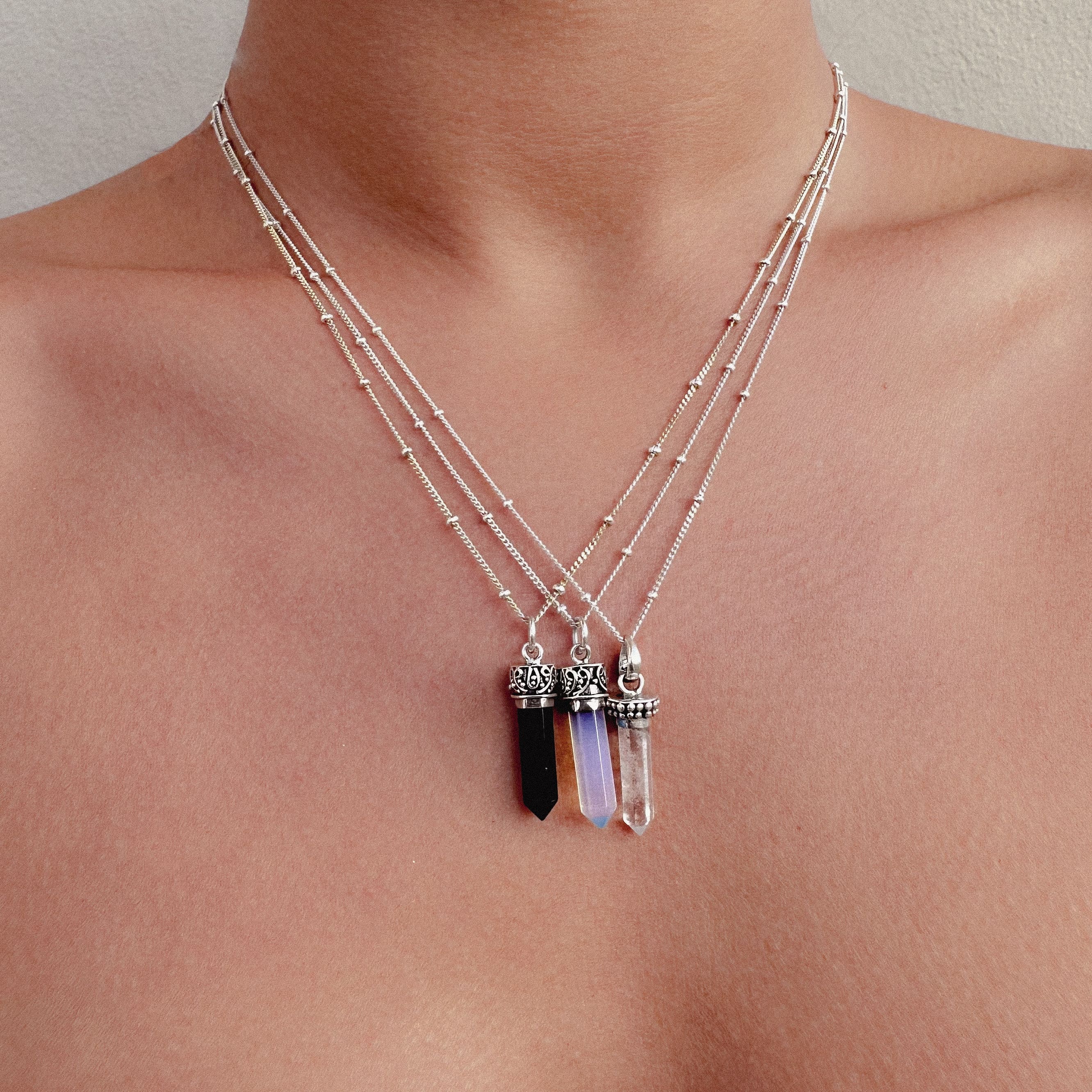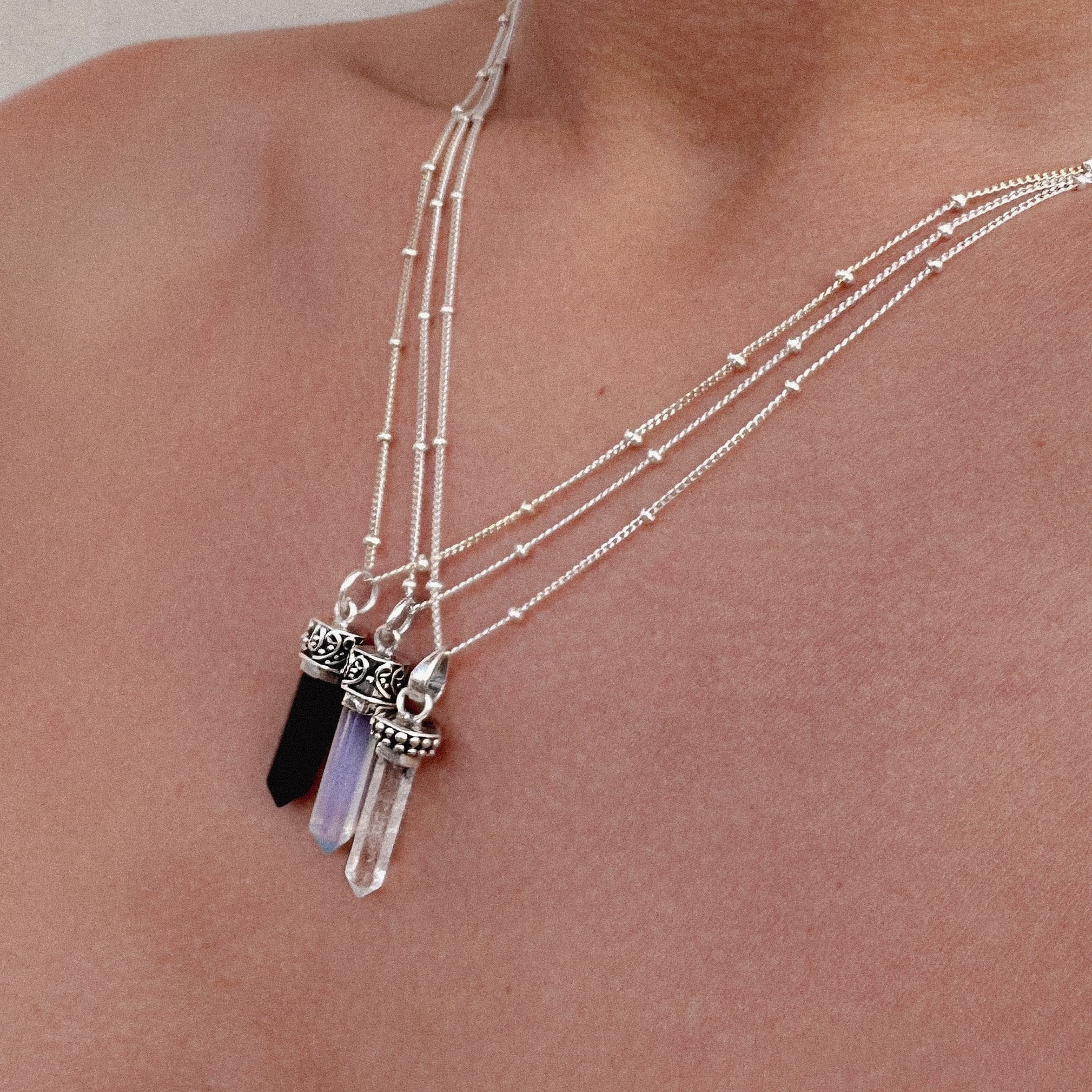 Collana in Argento 925 con pendente cristallo di Quarzo bianco.
Il quarzo bianco è usato moltissimo in cristalloterapia. Questo cristallo induce rilassamento e aiuta la meditazione. E' una pietra che aiuta e stimola la sfera femminile. 

A livello fisico il quarzo neve sembra che rafforzi le ossa, i denti, le vertebre e in generale l'assorbimento del calcio. E' la pietra perfetta da indossare nel periodo dell'allattamento. Nei trattamenti di cristalloterapia viene utilizzato anche per bloccare le infiammazioni.
Aiuta a mantenere la mente tranquilla e concentrata sulle priorità. Se siete persone indecise, dona chiarezza e fiducia. Offre uno stimolo per percorrere la strada dell'auto-realizzazione. Il quarzo bianco migliora il modo di comunicare e soprattutto consente di farlo anche in modo oggettivo quando l'occasione lo richiede.
Quando sentite di aver bisogno di una bella dose di energia, indossatelo! Vi farà vedere le cose con maggior chiarezza.
E' una pietra che dona serenità. Agisce come pietra protettiva e stimola il vostro potenziale nascosto.
CARATTERISTICHE
| | |
| --- | --- |
| Materiale | Argento Sterling 925  |
| Misura collana | 45 cm |
| Pietre | cristallo di Quarzo bianco  |
Details
Fatto a Mano
Etico
Sostenibile
Information
Spedizione in 24/48 ore lavorative
Pagamento sicuro con Carta di Credito/PayPal
ATLANTICA
Jewels from the World
When the world touches my eyes, and the ocean touches my skin, my dream comes true.
I transform this dream into something for you that can transmit emotions, passion, trust, and change.
This is where my story begins.