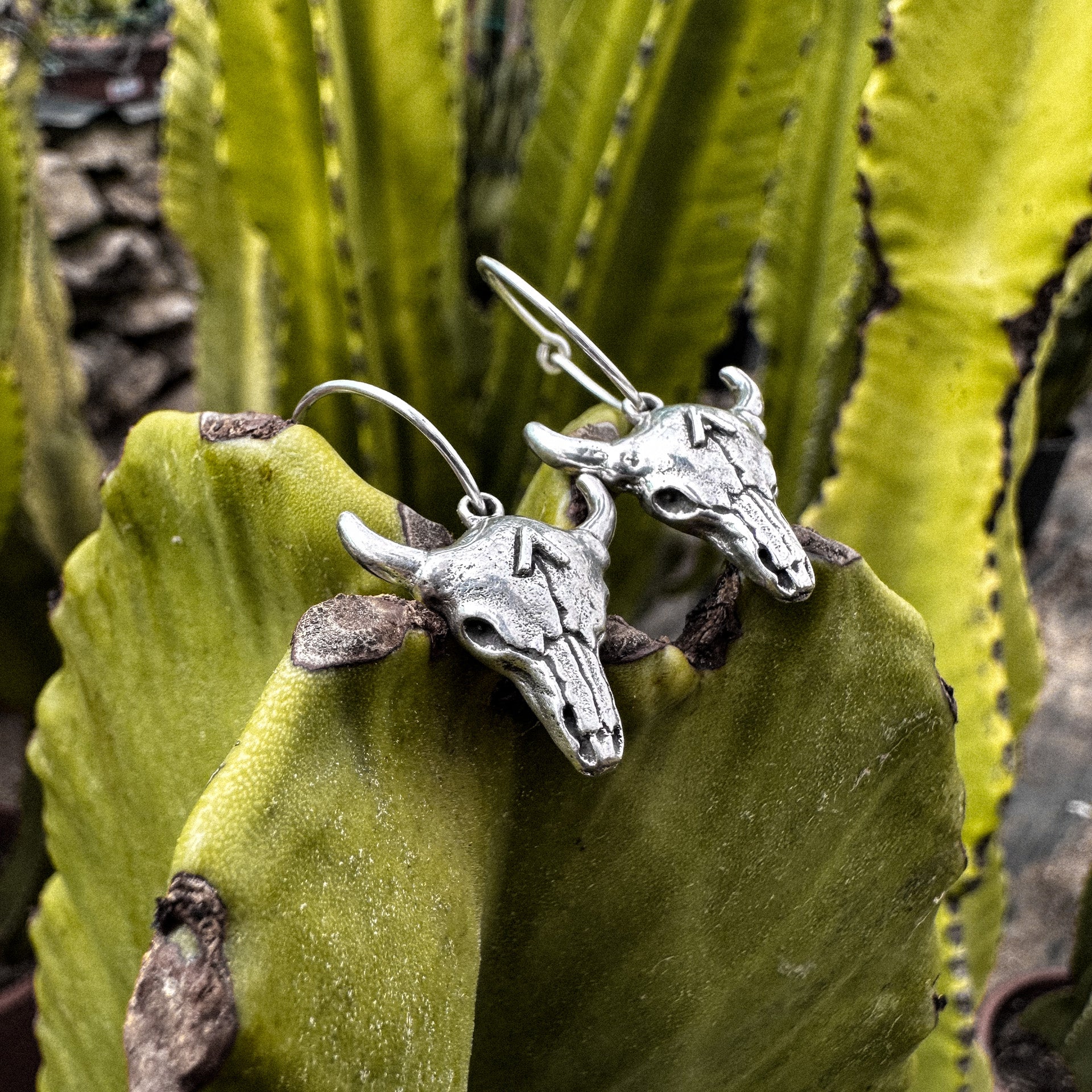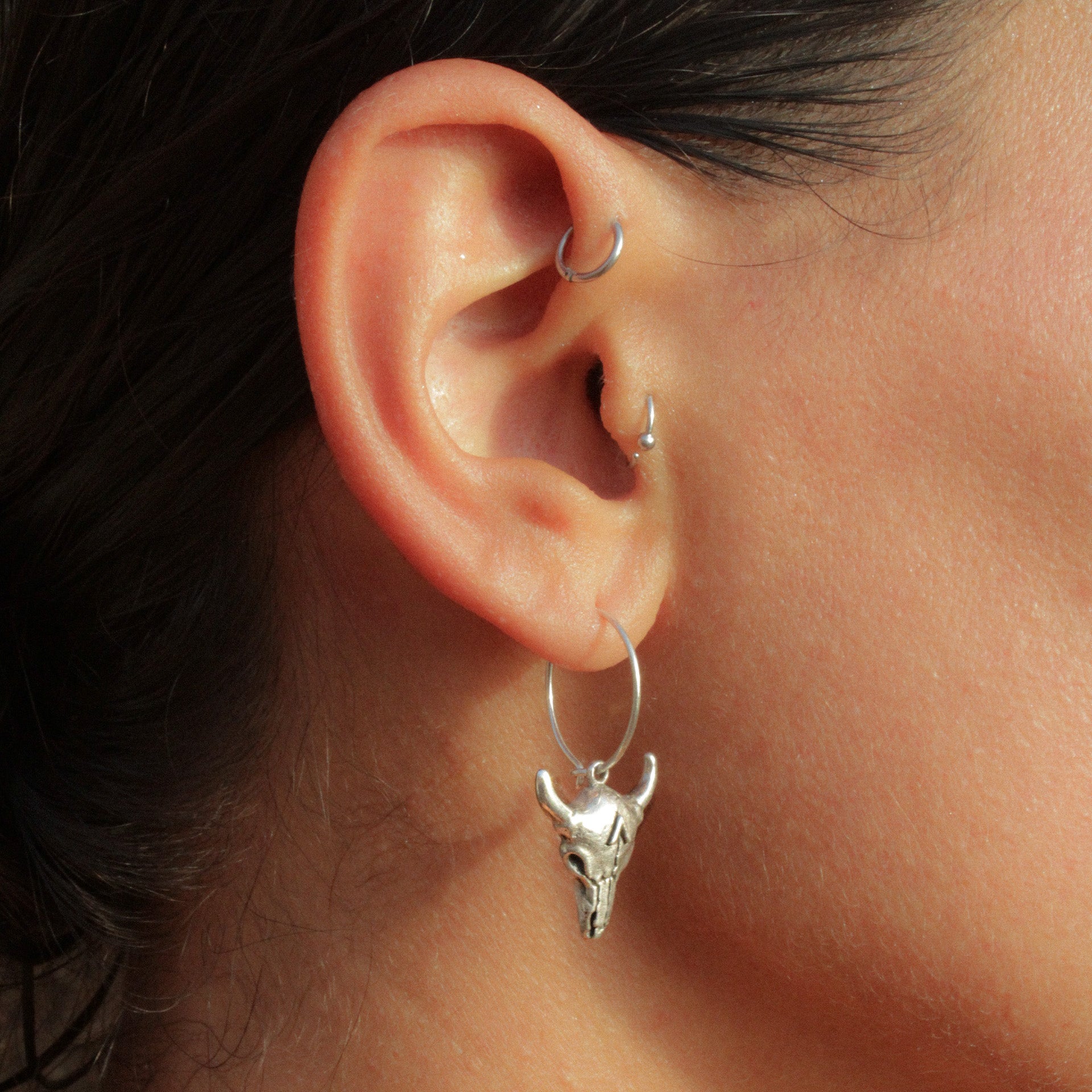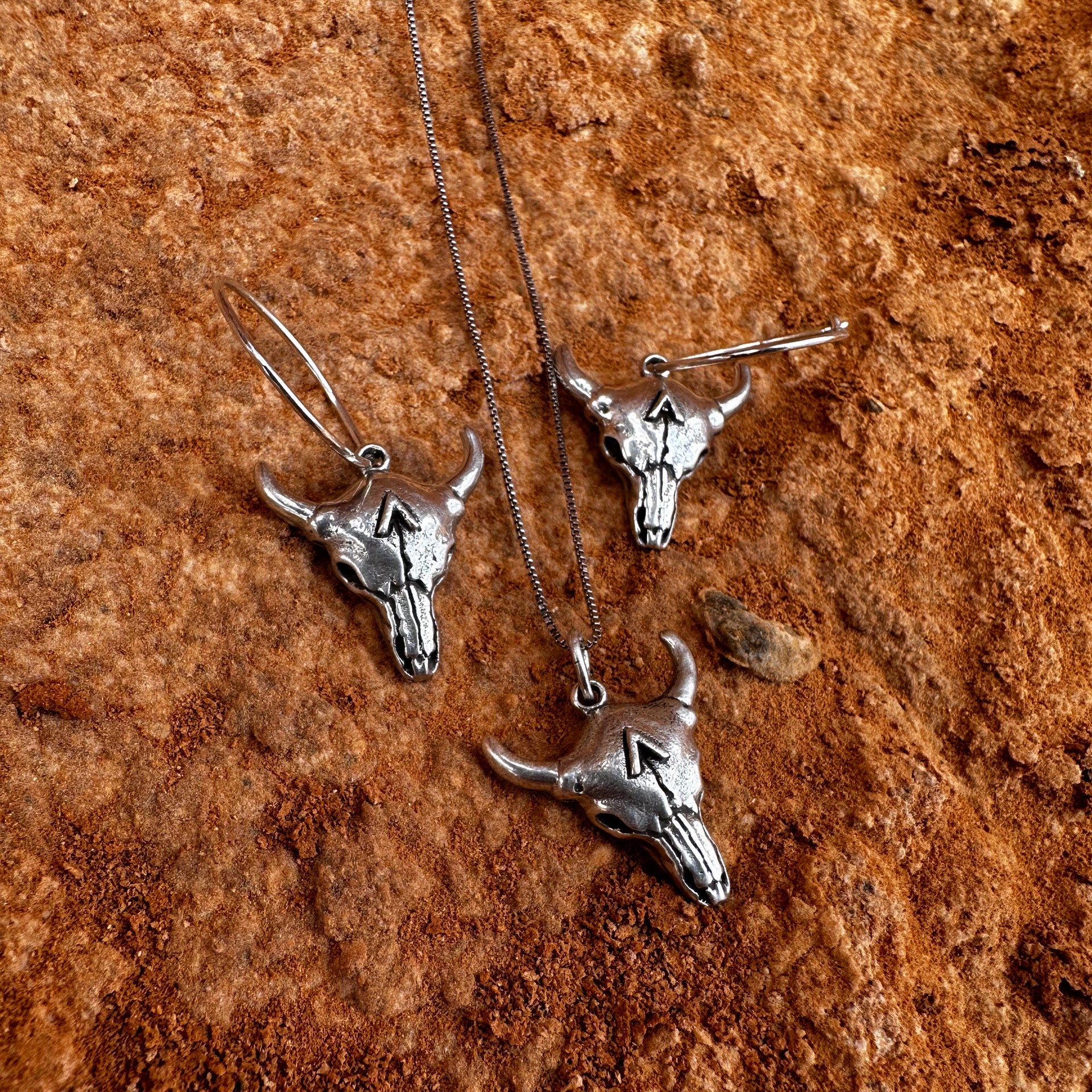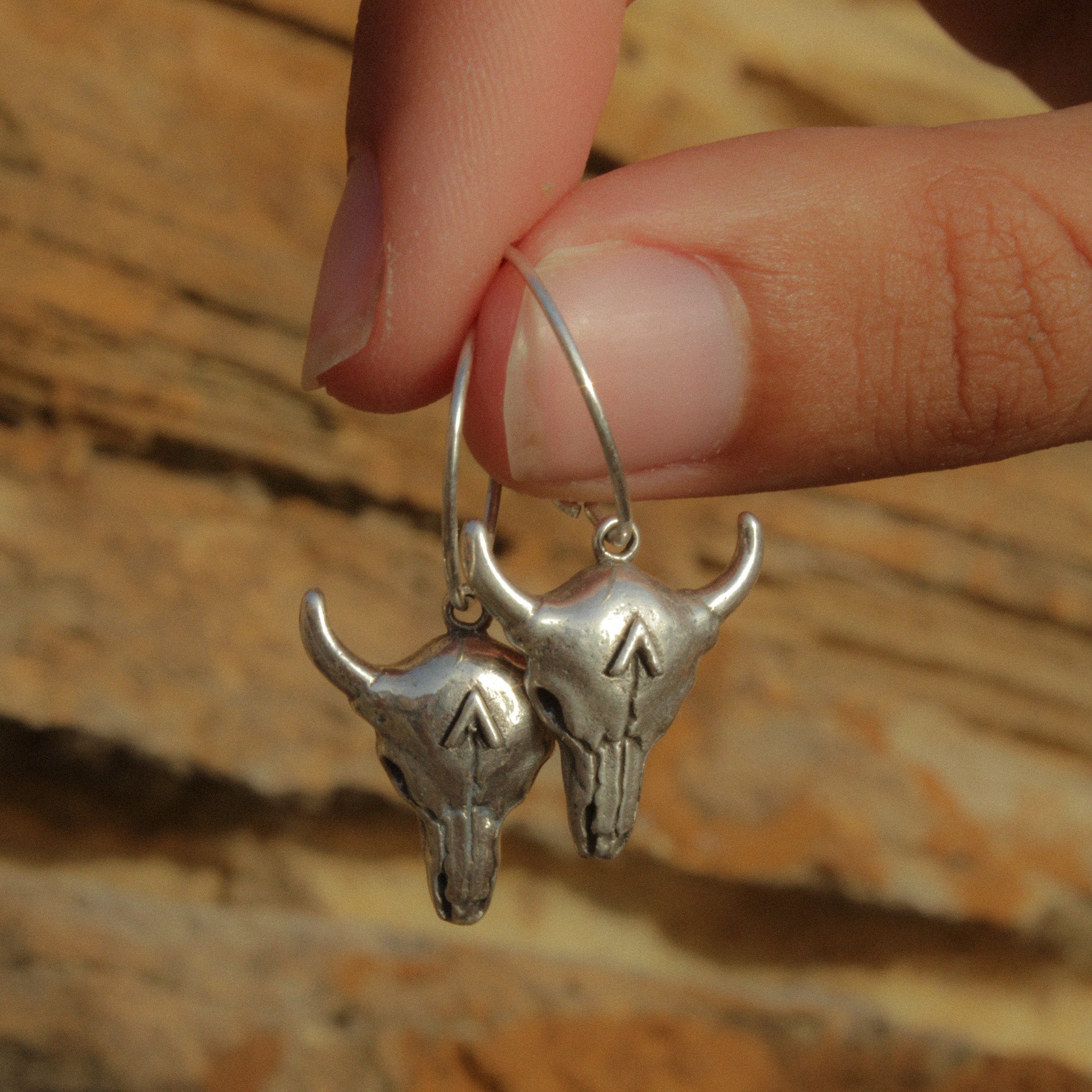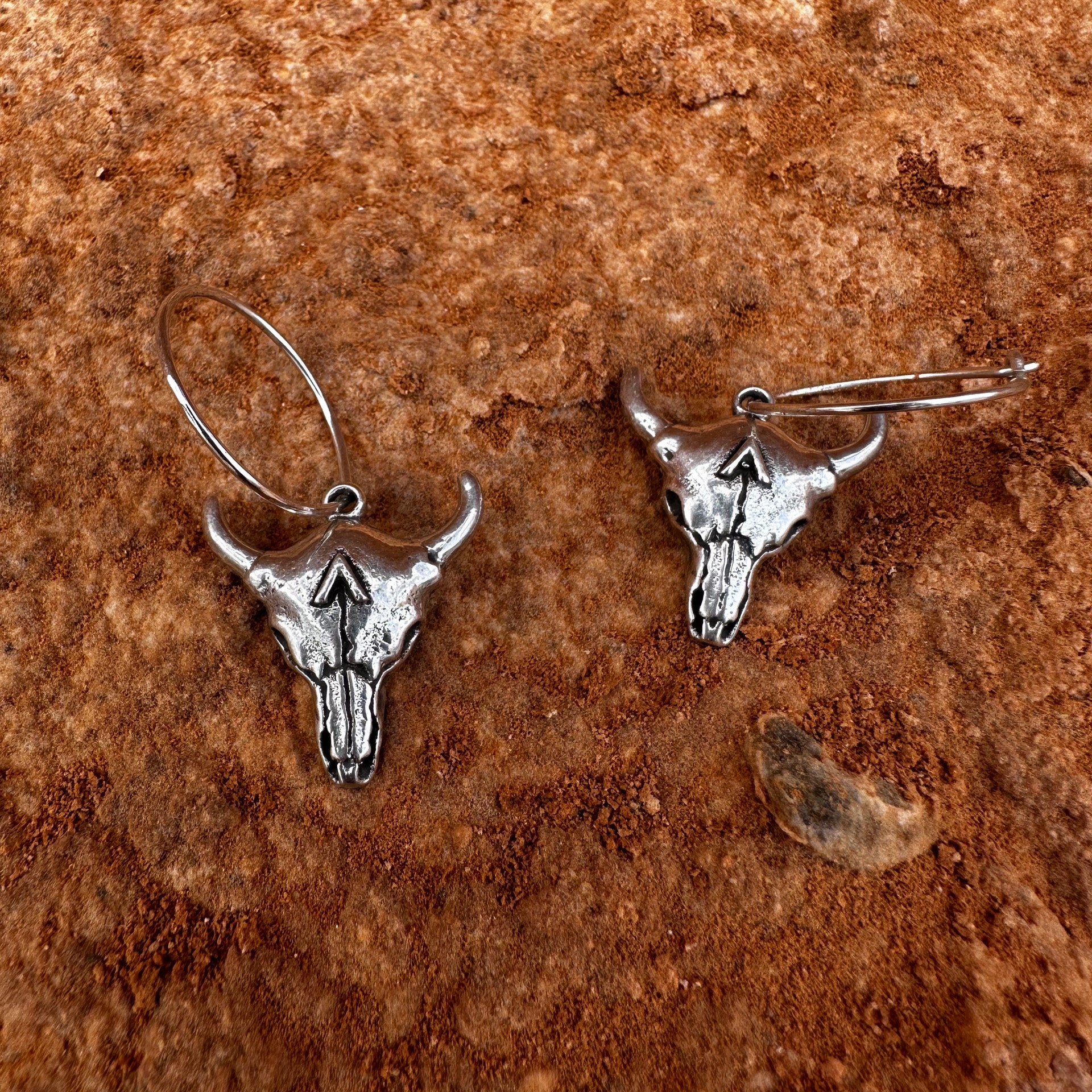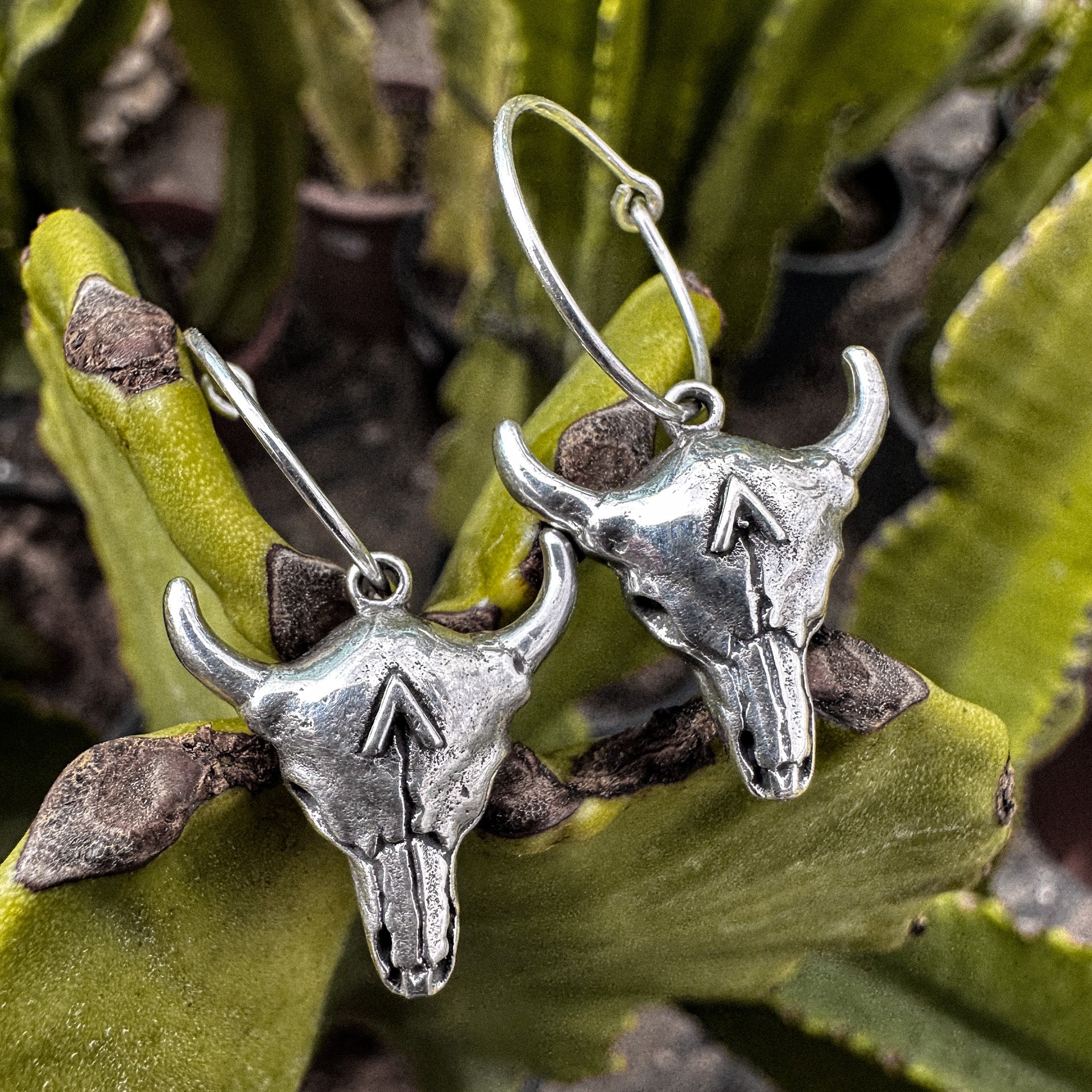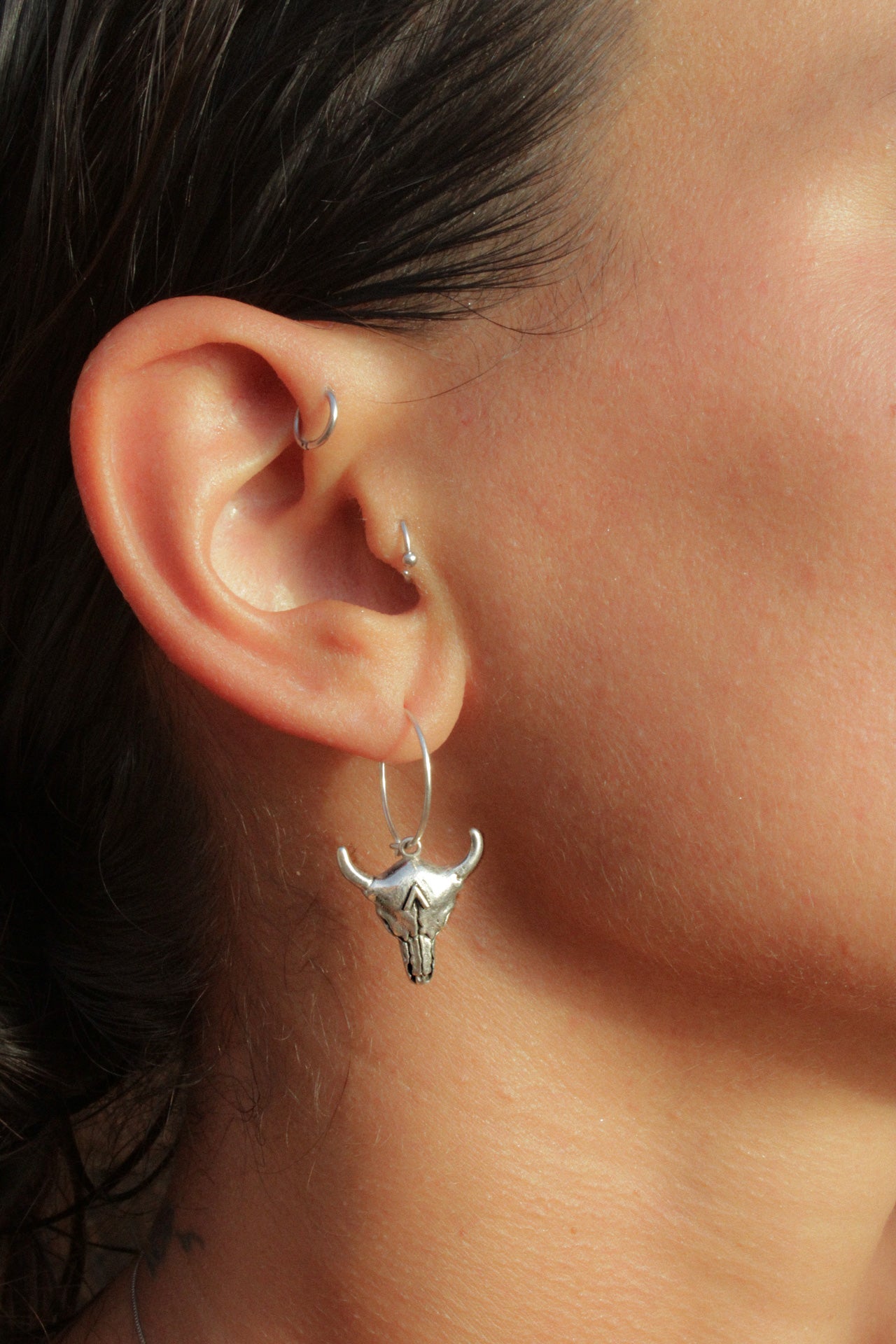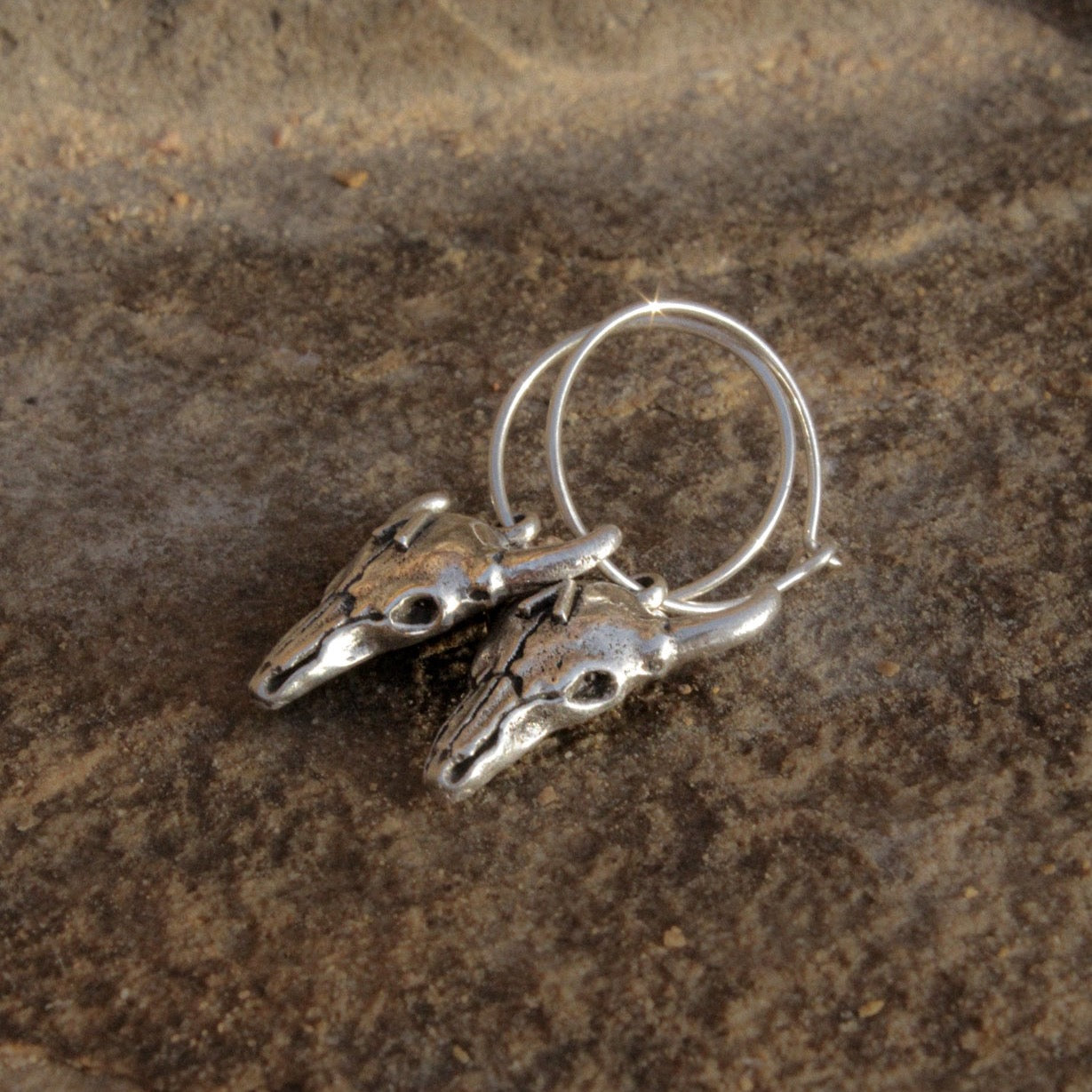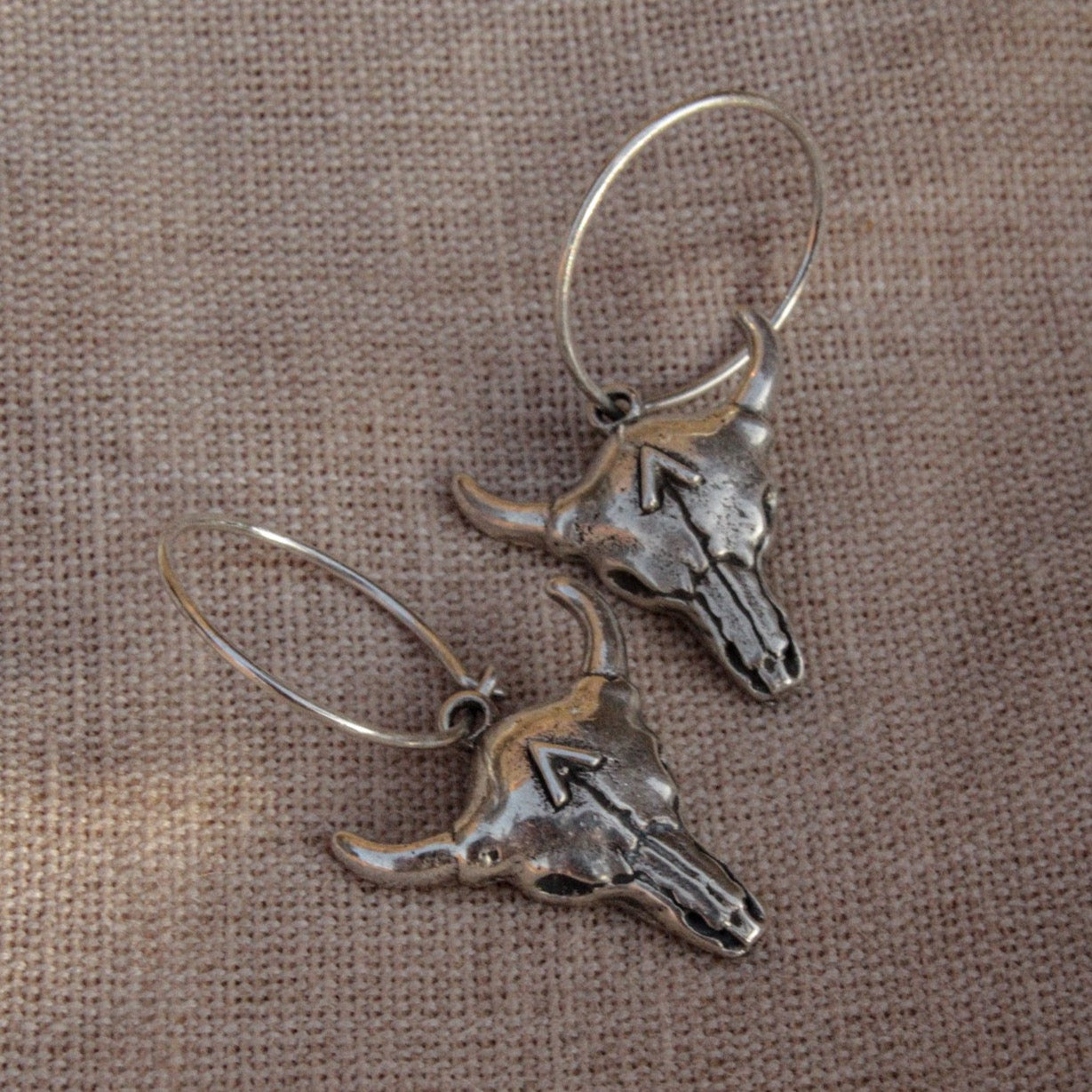 Orecchini in Argento S925 con anella 2cm e ciondolo pendente a forma di teschio gnu fatto a mano.
Simbolo di vitalità, protezione, socialità e consapevolezza, lo Gnu trasmette preziosi messaggi all'essere umano.

Animale coraggioso, si sposta costantemente in numerosi branchi. Invita l'uomo a vivere serenamente all'interno di un gruppo, sia questo di lavoro, di famiglia o in ambito sociale. Mostra come, sentirsi parte di una comunità, non escluda la personalità individuale anzi, al contrario, ciascun individuo può apportare il suo contributo affinché tutti possano beneficiarne.

Lo Gnu è un animale che ama la compagnia anche di altre specie e quest'attitudine sociale, è un messaggio sull'importanza del confronto con chi è dissomigliante da noi. Invita, inoltre, a godere del momento presente che si sta vivendo, a sentirsi "nel posto giusto" consapevoli che, quando si sta bene, ovunque può essere Casa.
Penserai, cosa centra con questo ciondolo?
Con l'arrivo, verso gli anni '70, degli hippie sull'Isola,  arriva anche lo stile boho-chic che si distingue per la sua atmosfera libera e spensierata.

E' uno stile che vede mescolarsi diverse culture ed usanze tra cui quella francese ed americana, le più significative a definire questo nuovo stile.
Questo teschio, che può essere di gnu o di toro  deriva dall'usanza di appendere come trofei i teschi di questi animali sulle pareti o ai piedi di alcuni altari.

Insomma, non è difficile trovare queste statue in giro per l'isola.
A me piace, mi ricorda molto Ibiza, così ho deciso di creare dei gioielli con la stessa rappresentazione realistica.
CARATTERISTICHE ORECCHINI
| | |
| --- | --- |
| Materiale | Argento Sterling 925  |
| Diametro anella | 2 cm |
| Pendente | 1,5 cm |
Description
Orecchini Boho Skull
Quasi nessuno lo sa...

Ma, ad Ibiza, si produce sale!

Devi sapere che le saline di Ibiza hanno aiutato l'economia del paese fin da tempi molto antichi.

Il clima insulare, il sole e il vento hanno permesso la formazione di queste saline.

Saline di una bellezza incredibile.

Ho creato questa parure "Salinas" proprio per questo motivo.

Volevo portassi sempre con te la stessa luce che viene emanata in queste enorme distese di sale.

Questa parure, composta da collana e orecchini in argento 925, ha come punto focale una madreperla color ghiaccio.

Questa madreperla sembra brilli di luce propria, anche all'ombra.

Ma è quando incontra la luce che libera tutto il suo splendore.

Il ciondolo a madreperla è infatti circondato da un motivo mandala in argento 925 che ricorda proprio dei raggi solari.

Indossando questa parure Salinas vorrei che ti ricordassi sempre di una cosa:

RICORDATI DI SPLENDERE, SEMPRE.
Collection
Limited Edition
Atlantica's Limited Edition jewelry is not for everyone. They are reserved for those who travel with their minds as well as their bodies, which is why the production quantity is limited compared to classic jewelry.

These jewels are available only a few times during the year, to maintain the Limited Edition concept and reward those who trust, all along, Atlantica.
ATLANTICA
Jewels from the World.
When the world touches my eyes, and the ocean touches my skin, my dream comes true.
I transform this dream into something for you that can transmit emotions, passion, trust, and change.
This is where my story begins.